Team Group's T-Force Cardea Zero Z340 SSD
August, 2020
Team Group's T-Force Cardea Zero Z340 SSD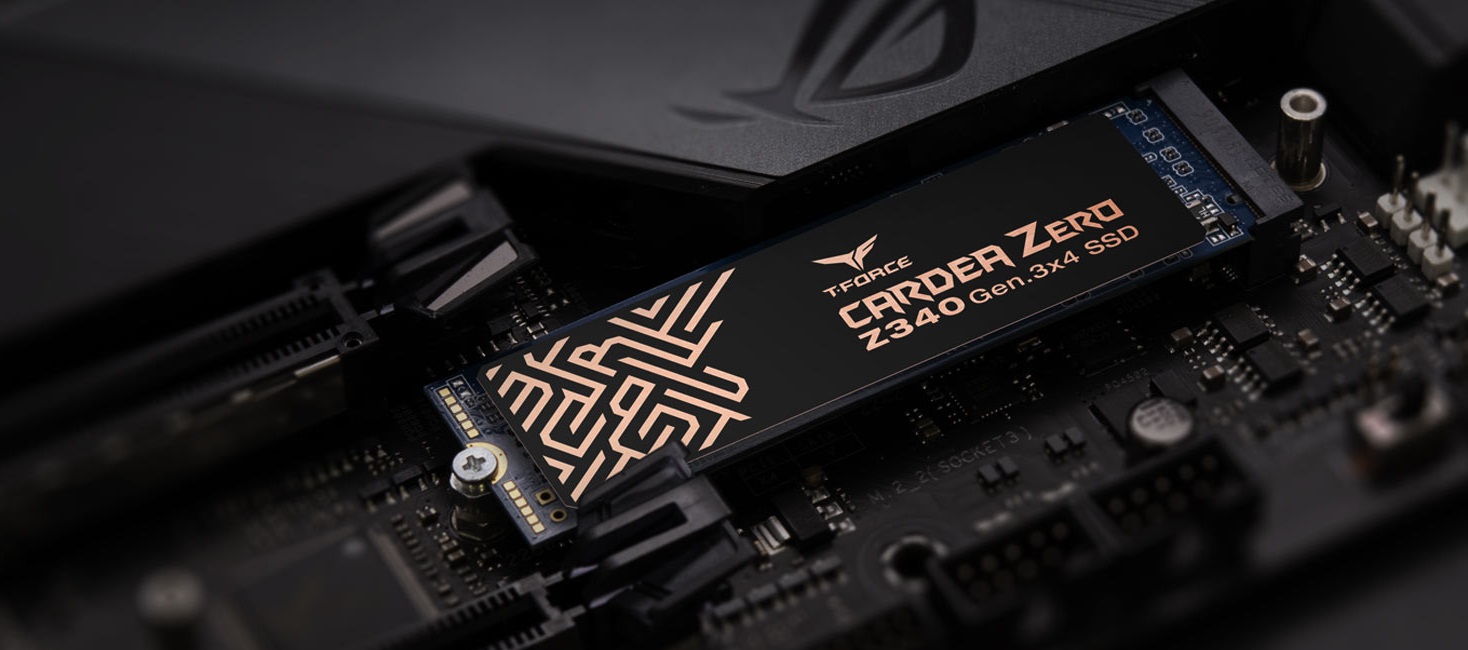 Team Group's T-Force Cardea Zero Z340 is a mainstream M.2 NVMe SSD that leverages PCIe Gen3x4 NVMe 1.3 technology and has a graphene foil cooling shield, supporting the latest PCIe Gen3x4 interface and featuring NVMe 1.3 standard. With its competitive pricing, performance, and efficiency, the T-Force Cardea Zero Z340 M.2 NVMe SSD is a good choice for gamers.
The Team Group's T-Force Cardea Zero Z340 SSD drive is packed with the high-tier Phison PS5012-E12S controller, 3D TLC NAND flash memory, and DRAM cache IC for high speeds. The SSD has comprehensive intelligent management technologies such as S.M.A.R.T. (Self-Monitoring Analysis and Reporting Technology), TRIM command, LDPC ECC error correction mechanism, and more.
The SSD comes in an M.2 2280 single-sided form factor so all of the components are on one side of the PCB that ensures broad compatibility with ultra-thin mobile devices. It also features an extremely thin graphene and copper cooler design that uses graphene for thermal conduction and radiation while leveraging the copper for thermal capacity. Team Group measured the heat spreader provide cooling effect of 9 percent after over three hours of continuous reading/writing.
The Cardea Zero Z340 SSD comes in 3 capacities of 256GB, 512GB, and 1TB. The SSDs can deliver sequential throughput of up to 3.4/3.0 GBps, and under random workloads they can sustain up to 450,000/400,000 read/write IOPS. Although the smaller capacities are a bit limited on write performance compared to the 1TB model, but they can still deliver very fast read performance.
The Cardea Zero Z340 SSD comes backed by some very high write endurance ratings within its five-year warranty. Thanks to its Phsion NVMe SSD controller with the company's third-gen LDPC ECC, the 1TB SSD can endure up to 1,665 TB of writes over its warranty period.
Team Group T-Force Cardea Zero Z340 NVMe SSDs are a price-efficient option for gaming and they also deliver a solid performance. Still, like all SSD drives, they are vulnerable to physical and SSD logical failures that can result in critical files inaccessibility, and their owners will need to contact a professional data recovery services provider. ACE Data Recovery engineers can successfully recover data from all types of storage media and are ready to help Team Group T-Force Cardea Zero Z340 NVMe SSD owners with their data recovery needs.