Buffalo Announces SSD-PG Portable SSD
September, 2021
Buffalo Announces SSD-PG Portable SSD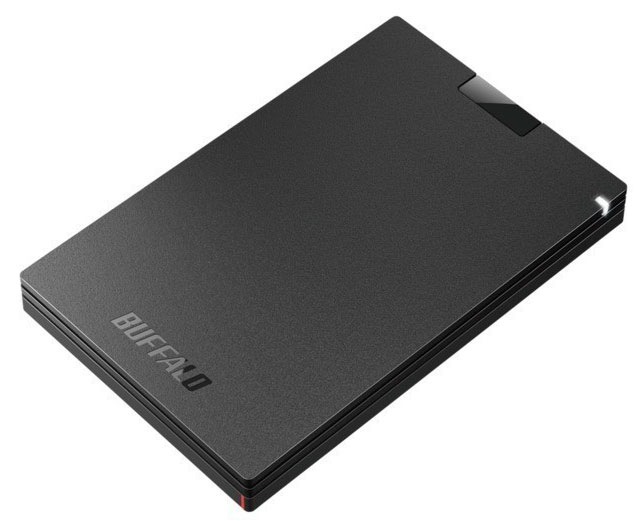 The Buffalo SSD-PG SSD measures 0.4 by 3 by 4.6 inches (HWD) and has a status light is at the top right corner. The LED glows white when the drive is plugged in, and pulses when a transfer is in progress. The SSD features a USB Micro-B port, which fits one end of an included cable. The other end can be connected to a computer's USB Type-A port, or to an included USB-A-to-C adapter for use with a computer-side USB-C port.
The Buffalo SSD-PG meets the U.S. military's MIL-STD-810G 516.6 Procedure IV qualifications for drop resistance. This drop test is often called a shock test and it entails dropping the product 26 times from about four feet, to test the shock resistance of all faces, edges, and corners. The drive has no Ingress Protection (IP) rating, which indicates that it has not been tested for dust or water resistance. The Micro-B port is not sealed.
The SSD-PG is available in two versions – 500GB and 1TB, and it is covered by a two-year warranty. The Buffalo SSD drive may not play well with computers equipped with certain AMD Ryzen CPUs, specifically Ryzen 4000 series desktop and mobile processors with AMD Radeon Graphics, and Ryzen 5000 series desktop processors. The drive transfers files in either UASP (USB Attached SCSI Protocol) mode or BOT (Bulk Only Transport) mode, but a computer equipped with one of the above CPUs may not support USB drives in UASP mode.
The SSD-PG offers peak sequential read/write speeds of 340MBps and 320MBps, respectively, which is slow for an external SSD based on a SATA core, particularly in reads. But Buffalo's SSD-PG Portable SSD is a good choice for people who want to replace a slow and heavy spinning hard drive with a portable external solid-state drive (SSD). The thin, all-black SSD-PG is about twice as fast as a typical hard disk drive. It can also survive being dropped or mishandled.
The Buffalo SSD-PG Portable SSD is good for everyday use, but it can fall victim to logical and SSD physical failures, just like any other storage media, making precious user files inaccessible. If that happens, the owners of the Buffalo SSD-PG Portable SSD will need to contact a professional data recovery services provider to get their critical data back. ACE Data Recovery team can successfully recover data from all types of storage devices and is ready to help the Buffalo SSD-PG Portable SSD owners with their data recovery needs.