Asustor Flashtor Series, the latest lineup of NAS solutions designed to meet the needs of content creators and enthusiasts
May, 2023
Asustor Flashtor Series, the latest lineup of NAS solutions designed to meet the needs of content creators and enthusiasts
Asustor, one of the more popular NAS manufacturers, has announced its new Flashtor series. The Flashtor lineup, currently consisting of the Flashtor 6 (FS6706T) and Flashtor 12 Pro (FS6712X), caters to content creators and enthusiasts, offering a rich feature set. This includes the capacity to house up to 12 PCIe 3.0 M.2 slots for NVMe SSDs, fast 10GbE connectivity, and an HDMI 2.0b port that supports 4K displays at 60 Hz. It's the first time the brand has launched a NAS featuring all-M.2 NVMe SSD storage.
The Flashtor NAS series arrives with a black, console-looking exterior, which may be a refreshing departure from the typical NAS look for some users. Both the Flashtor 6 and Flashtor 12 Pro have identical dimensions, measuring 12.1 x 7.6 x 1.9 inches (308.26 x 193 x 48.3 mm). However, there is a slight difference in weight. The Flashtor 6 weighs 2.98 pounds (1.35 kilograms), while the Flashtor 12 Pro weighs 3 pounds (1.37 kilograms).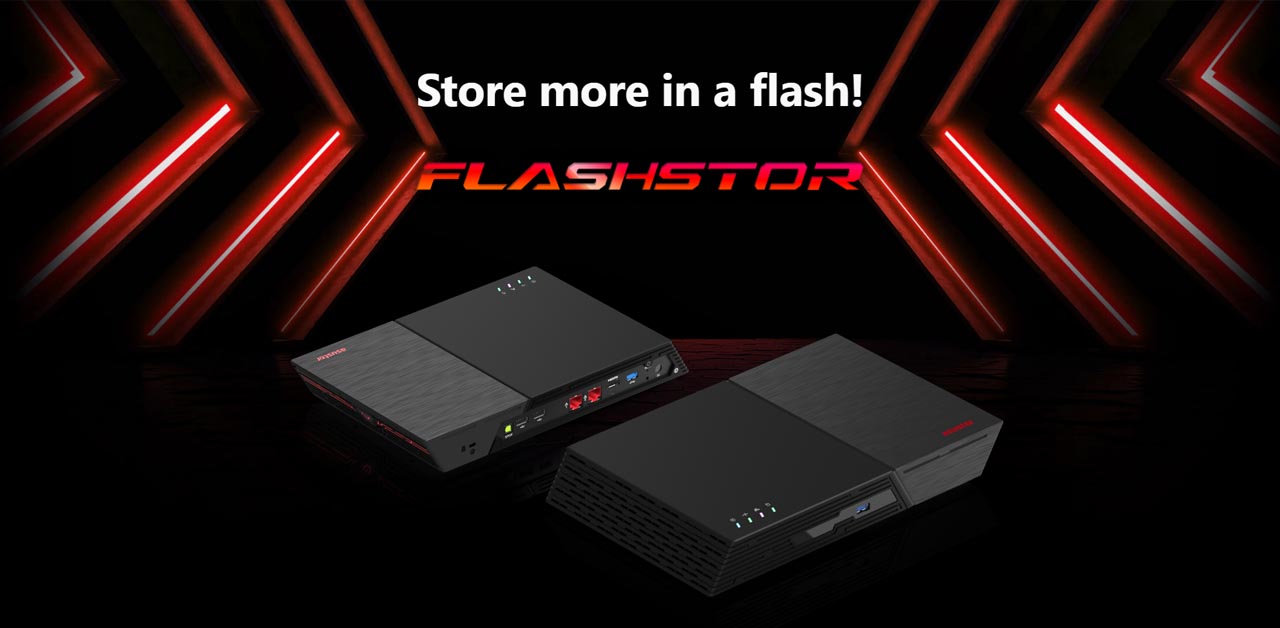 Asustor Flashtor Series hardware, ports and features
The Flashtor 6 and Flashtor 12 Pro utilize Intel's Celeron N5105 (Jasper Lake) processor. This 10nm chip features four Tremont cores without Hyper-Threading, operating at a 2 GHz base clock and a 2.9 GHz boost clock. The 10W processor doesn't have demanding cooling requirements, making it a common choice among NAS vendors. Asustor pairs the Celeron N5105 with a 4 GB SO-DIMM DDR4-2933 memory module. Regardless of the model, the Flashtor devices come with two SO-DIMM DDR4 memory slots, allowing up to 16 GB (2 x 8 GB), the maximum capacity supported on the Celeron N5105. Additionally, Asustor's NAS also has 8 GB of onboard eMMC storage.
Asustor equipped the Flashtor 6 with two 2.5 Gigabit Ethernet ports, offering read and write speeds up to 590 MB/s and 583 MB/s, respectively, in an SMB multichannel (RAID 5) environment. In contrast, the Flashtor 12 Pro only has a 10 Gigabit Ethernet port but boasts higher read and write speeds up to 1,181 MB/s and 1,027 MB/s, respectively, in Windows with a RAID 5 array. It's important to note that Asustor achieved these performance numbers in their lab with avant-garde systems and optimized network settings, so consumer performance may vary. Only the Flashtor 6 supports Wake on LAN (WoL) and Wake on WAN (WoW), as the Flashtor 12 Pro only supports the former. Additionally, the Flashtor series provides consumers with two USB 3.2 Gen 2x1 ports and two USB 2.0 ports for connecting external devices. For multimedia capabilities, the NAS devices offer one HDMI 2.0b port for video and one S/PDIF output for lossless audio. Asustor includes a 65 W power adapter with the Flashtor 6 and a 90 W unit with the Flashtor 12 Pro. According to the brand, the Flashtor 6 consumes around 18.2 W during operation, while the Flashtor 12 Pro consumes around 26 W. The noise levels are also reasonable, with Asustor rating the Flashtor series at a noise level of 18.7 dB.
The Asustor web management interface is very intuitive, striking a balance between being accessible for novice users and providing enough functionality for advanced users. One improvement that could be made is displaying which SSDs are located at the top and bottom in the chassis. Currently, it's a 50/50 guess due to multiple screw access on either side. Setting up a volume is easy but can be slow, as initializing a 12x 4TB volume took almost 7 hours. It is strongly suggested to enable SMB multichannel in the SMB settings for a significant performance increase if your device supports it.
Asustor Flashtor NAS performance inconsistencies
Read speeds are generally good, but write speeds are somewhat limited. Write speeds are higher in RAID 0, 1, or 10, but RAID 5 results were underwhelming. It's worth noting that drive selection also plays a role in performance. While 258 MB/s may seem low, it's important to consider that many cameras, especially those shooting in compressed formats like h265, have data rates of 200-400 Mbps. On the read side, speeds are much higher. SMB file transfers reach speeds of 900 MB/s, which is commendable. However, there were some performance inconsistencies, with some transfers falling into the 400-500 MB/s range when writing to the NAS. This can be attributed to the RAID 5 array and drives, which can slow down to 75 MB/s each during long-term sequential testing. Nevertheless, this performance is acceptable for a file server. For ultra-fast VM storage, the Flashtor series may not be the most suitable choice. The PCIe lane situation imposes limitations on ultra-low latency operations. Basic VM storage via iSCSI or other protocols is fine, but it is recommended to opt for a faster NAS for such applications.
In conclusion, it seems that the Flashtor series was designed as a lower-cost flash NAS, prioritizing portability and reliability rather than all-out performance. This design choice aligns well with the intended target audience.
Asustor NAS professional data recovery services
At ACE Data Group, we understand the importance of safeguarding your data and the potential challenges that can arise in the event of data loss or system failure. That's why we offer reliable and comprehensive NAS data recovery services to help you retrieve your valuable information. Our team of experienced professionals is equipped with advanced tools and techniques to handle various data recovery scenarios, including accidental deletion, NAS hardware failure, and software corruption. Whether you're using our Flashtor series or any other Asustor NAS model, our experts will work diligently to recover your data and ensure minimal downtime. We prioritize data security and confidentiality throughout the recovery process, employing stringent measures to protect your sensitive information. Trust ACE's professional data recovery services to minimize the impact of data loss and restore your important files efficiently and effectively.