The first Apacer SSDs to run at ultra-rapid 13,000MB/s break surface
June, 2022
The first Apacer SSDs to run at ultra-rapid 13,000MB/s break surface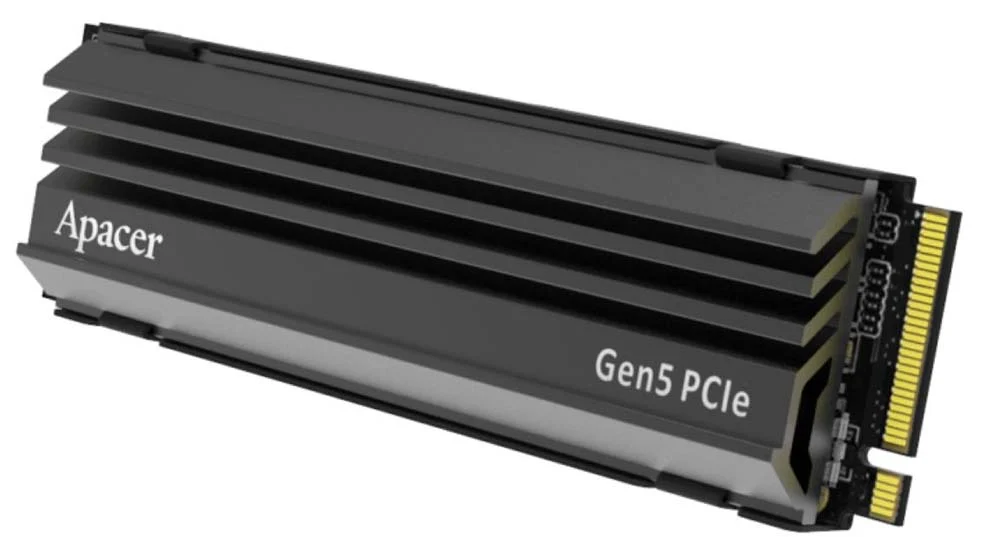 Over at its virtual Computex booth, Apacer has revealed the first PCIe Gen5 SSDs running at up to 13,000MB/s read speeds. There are two drives from Apacer: the Apacer branded AS2280F5 and the Zadak branded TWSG5. Apacer's rated specs get pretty close to doubling up the speed of today's fastest SSDs. Both models are rated to deliver sequential read speeds of up to 13,000MB/s and sequential writes of up to 12,000MB/s.
Both SSDs are most likely using Phison's recently announced PS5026-E26 controller. The specs largely match up: the E26 tops out at 13,500MB/s seq. read and 12,000MB/s seq. write. But that's not quite the maximum for PCIe 5.0, which is actually 16,000MB/s.
Both Apacer and Zadak SSDs feature the same heat sink from the images in their virtual Computex booth, but the Zadak model is listed with an "ultra-thin grapheme" heat sink, too. We don't yet know how much cooling a PCIe 5.0 SSD will require, but Phison has said its E26 controller is expected to run cooler than some around today. That said, it was also noted that active cooling could one day become the norm for M.2 SSDs.
These new PCIe 5.0 SSDs are likely to be released around the same time as AMD's Zen 4 processors in the fall, as that's when Phison believes it will have the controller ready to go. The new AS2280F5 and TWSG5 SSDs are expected to deliver fantastic speeds, but nevertheless, those SSD can fail, making critical user data inaccessible. Then the owners of the new AS2280F5 and TWSG5 SSDs will need to contact a professional data recovery services provider to get their irreplaceable files back.
ACE Data Recovery team has extensive experience in recovering data from all types of hard drive storage and SSDs and can boast of one of highest success rates. ACEs are looking forward to the new Apacer branded AS2280F5 and the Zadak branded TWSG5 SSDs and will gladly help their owners with their data recovery needs.