Western Digital Enterprise Re Recovery - Hard Drive Data Recovery
Western Digital Enterprise Re Recovery - Hard Drive Data Recovery
WD Re (RAID Edition) hard disk is available in 6Gb/s and 3Gb/s SATA and SAS interface with 7,200 RPM a form factor of 3.5, which makes it perfect for usage in the servers with a heavy workload. Since the loss of data is nothing new for the circumstances under which the WD Re is used you always need to have ACE Data Recovery on speed dial.
ACE Data Recovery is able to restore loss data from any WD Re hard disk and much more. We offer RAID recovery, SQL server recovery, SSD and flash media recovery, cell phone data recovery… you name it, we can do it all!
We have been in the recovery business for more than three decades helping people in cases when others said it was impossible to help. We have the team, the knowledge and the experience to do wonders with your lost data.
WD Enterprise Re data recovery process: how it works for our clients
1.

YOU BRING

Bring or ship your failed storage media to our office for a free diagnostic evaluation.
2.

YOU APPROVE

Receive and approve an all-inclusive quote, so we can start the process immediately.
3.

WE RECOVER

Give us few days to recover your data and to copy it to a free return media.
4.

WE DELIVER

Get your data back, copy it to your computer and benefit from our free post-recovery support.
Free external hard drive or usb flash with each
completed
recovery
Our Experts are Ready to Recover Data from Your Failed Western Digital Enterprise Re Drive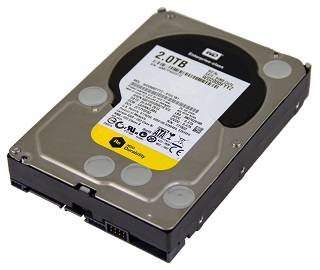 The first step would be to bring the WD Re hard drive in our lab or service center. There we will investigate what has caused the issue and within 48 hours we will contact you with the report and a firm quote for the repair. If the cost is acceptable for you, we will start working on your data recovery project. The device will be taken care of in one of our laboratories and in the next 5 days you can expect to have your data back. Every recovery process is carried out strictly in a laboratory. We never outsource any projects so you can be sure that your data is safe.
Here a review of our client: "We use RAID 5 of 8 WD Re hard disks and never had any issues, until a week ago. The server crashed and we lost everything. A friend of mine recommended contacting ACE Data Recovery and I will always be grateful for that advice."
Let Us Get Back Data from Your Enterprise Re Drive
Our laboratory is equipped with advanced technology and we have full control over each phase of the process. Moreover, we control the quality of the air flow in our clean rooms to avoid the possibility of further damage on the device or the restored data. To make you even more confident in the work we do, we have implemented a policy called No data – No Charge. With this we guarantee you pay only for the successful recovery process. If the process fails, you won't have to pay us for our time. Call us to start your data recovery case!