OCZ VX500 series SSD - Solid State Drives Data Recovery
Data recovery from OCZ VX500 SSD - Solid State Drives Data Recovery
ACE Data Recovery offers professional assistance with OCZ VX500 series SSD recovery to corporate users and individuals who have issues with data accessibility. In opposite to HDD recovery, file retrieval from OCZ VX500 series SSD requires specific tools and technologies, so any DIY solutions may lead to severe info corruption and permanent data loss.
Toshiba OCZ VX500 SSD featuring Toshiba TC358790 chipset can boast of both high performance and endurance rating. It makes a good choice for corporations looking for a reliable solution to replace traditional data storages. At the same time, OCZ VX500 series solid-state drive is rather expensive, so not everyone can actually afford it.
OCZ VX500 SSD data recovery process: how it works for our clients
1.

YOU BRING

Bring or ship your failed storage media to our office for a free diagnostic evaluation.
2.

YOU APPROVE

Receive and approve an all-inclusive quote, so we can start the process immediately.
3.

WE RECOVER

Give us few days to recover your data and to copy it to a free return media.
4.

WE DELIVER

Get your data back, copy it to your computer and benefit from our free post-recovery support.
Free external hard drive or usb flash with each
completed
recovery
It often happens that even the most advanced drives fail. The tiniest defects or careless user actions may result in temporary data loss. OCZ VX500 SSD is no exception in that regard. When the solid-state drive fails, the only safe way to get critical files back is to deal with a professional file recovery services provider. The point is SSD recovery is much more complex in comparison with file retrieval from a hard disk drive. It's quite expensive, labor-intensive and time-consuming procedure. In addition, not every company in the industry can provide qualified SSD recovery services.
Our Experts are Ready to Recover Data from Your Failed OCZ VX500 SSD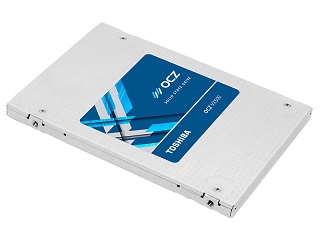 As the world's leader in providing the A-grade file retrieval services, ACE Data Recovery team is equipped well enough to handle any type of data storage device and recover any kind of vital data. Professional OCZ VX500 series SSD recovery is one the company's specialties. Using the advantage of the latest technologies and unique hardware tools developed onsite, ACE Data Recovery experts are capable to read intact parts of data from SSDs' memory cards and piece them together.
In case of need, ACEs can develop case-specific solutions in order to recover files other companies can't. For more than 35 years of providing high-level technical services ACE Data Recovery become the only US company capable to create highly-specific tools and software pieces in-house.
Retrieving files from faulty OCZ VX500 series SSDs: it's much easier with ACE Data Recovery
Every year ACE Data Recovery gets lots of solid-state drives from corporate and individual computer owners. Company experts try their best to get all intact files back from failed or completely dead storage units. In turn, grateful customers often leave feedbacks to thank ACEs for their job. The following message belongs to Lori M., the owner of OCZ VX500 SSD from Chicago, IL: "Great job folks. It's bad that it wasn't possible to save all my data, but I'm glad to get the most important files back. Many thanks."