Data recovery from OCZ Trion SSD - Solid State Drives Data Recovery
When a solid-state drive fails, the only way to save crucial information from loss is to leave everything to a professional file recovery services provider. ACE Data Recovery can boast of the wide range of the hi-tech solutions for qualified OCZ Trion series SSD recovery. Computer owners having serious issues with their data, can rely on ACEs as in addition to state-of-the-art solutions, certified specialists have extensive experience in retrieving data from OCZ Trion series SSDs.
According to some sources, OCZ Trion series solid-state drives are slower than their competitors on the market. Still, when it comes to price, Trion SSDs make the optimal choice for users seeking replacement drives for home and corporate computers running traditional hard disk drives.
OCZ Trion SSD data recovery process: how it works for our clients
Free external hard drive or usb flash with each
completed
recovery
On the other hand, solid-state drives aren't immune to failures, just like HDDs. A sudden power surge, failed firmware update or manufacturing defect may cause serious problems with crucial files accessibility. In the most complex cases data can get severely corrupted and irretrievably lost. To avoid potential data loss and recover intact information from faulty solid-state platforms, the professional assistance is required.
Our Experts are Ready to Recover Data from Your Failed OCZ Trion SSD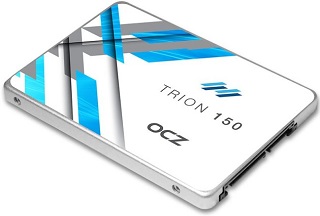 ACE Data Recovery, the best file retrieval services provider from pole to pole, specializes in saving vital data from any type of data storage device. SSD recovery is one of the company's specialties. When it comes to OCZ Trion series solid-state drives, ACEs can work on the following models: TR150, Trion 100, Trion 150 featuring Phison S10 chipsets. In case of need, certified technicians are capable to create new tools and software pieces in order to improve chances of success.
Generally, dealing qualified file retrieval services providers is the only sure way to prevent critical files from permanent loss, especially, when it comes to saving data from faulty solid-state platforms.
OCZ Trion series SSD recovery: the A-grade solutions from true file retrieval aces
ACE Data Recovery team can boast of the whole bunch of positive feedbacks from grateful customers. Some of them were left by the owners of OCZ Trion series drives. Here's one from Allen W., a small business owner in Woodbridge, VA:
"
I would like you to know that I'm fully satisfied with your services. In fact the idea to replace corporate hard disk drives with the affordable SSD storages was really cool. One defective drive means nothing. Still, you got my thanks for getting vital contacts from the faulty storage unit. I'll share your contact with my partners, that's for sure.
"