OCZ TR150 series SSD - Solid State Drives Data Recovery
Data recovery from OCZ TR150 SSD - Solid State Drives Data Recovery
The high-class OCZ TR150 series SSD recovery is one of those services ACE Data Recovery team offers to corporate and individual users seeking alternatives to traditional HDD storages and failed to access important files. Just like any SSD recovery, data retrieval from OCZ Trion 150 SSD requires the latest technologies and specific hardware tools. ACEs combine technologies and unique tools developed onsite with more than 35-years' of successful hands-on practice to improve chances of safe info recovery from faulty storages.
As one of the best entry-class solid-state platforms, OCZ TR150 series SSD with Phison S10 chipset can boast of improved performance limitations found in the previous models. However, it doesn't make the storage unit failproof. Just like hard disk drives, SSDs aren't immune to physical and logical failures. So, one day or another OCZ Trion 150 SSD may get inaccessible threatening vital user information.
OCZ TR150 SSD data recovery process: how it works for our clients
1.

YOU BRING

Bring or ship your failed storage media to our office for a free diagnostic evaluation.
2.

YOU APPROVE

Receive and approve an all-inclusive quote, so we can start the process immediately.
3.

WE RECOVER

Give us few days to recover your data and to copy it to a free return media.
4.

WE DELIVER

Get your data back, copy it to your computer and benefit from our free post-recovery support.
Free external hard drive or usb flash with each
completed
recovery
To recover temporary lost files from a faulty TR150 series solid-state drive, it is not enough to call on professional file recovery solutions. In fact, the only safe way to get intact files from defective drive is to deal with companies using the most advanced equipment, as SSD recovery takes a lot of qualified time and requires highly-specific tools.
Our Experts are Ready to Recover Data from Your Failed OCZ TR150 SSD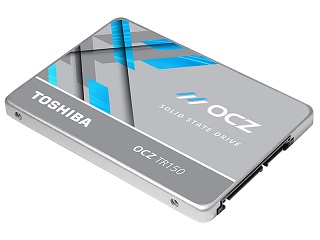 ACE Data Recovery team, the world's best provider of the A-grade services in field of data retrieval, has both the necessary equipment and extensive experience to ensure the safety SSD recovery in the industry. For more than 35 years the company has developed lots of highly-efficient tools to read intact information from the NAND chips used by solid-state drives as the main file storages.
In addition, ACE Data Recovery experts work without projects outsourcing. That allows making basic file recovery services affordable not only for large corporations, but also for small businesses and households.
Data recovery from OCZ TR150 SSDs: leave it to pros
When it comes to safe and successful data retrieval from OCZ TR150 series SSD, ACE Data Recovery is second to none. Every year certified technicians retrieve tons of sensitive information from failed solid-state drives. Often, data owners leave short messages to thank ACEs for the job done. This one was left by Pam G., a resident of Arlington, VA, reported serious OCZ TR150 drive issue:
"
I still can't get how you guys did that. I mean, it's amazing. Frankly, I used to think it's hardly possible to recover files after the SSD overheating. Well, I'm really glad I was wrong. Thanks for getting my files back.
"