OCZ TL100 series SSD - Solid State Drives Data Recovery
Data recovery from OCZ TL100 SSD - Solid State Drives Data Recovery
ACE Data Recovery team offers the most advanced solutions for the professional OCZ TL100 series SSD recovery. Be it a corporate computer or home desktop, our data recovery engineers will try their best in order to retrieve critical files from OCZ TL100 series solid-state storage suffered from a logical or physical failure.
Toshiba OCZ TL100 SSD featuring TC58NC1010 chipset is an entry-grade, wallet-friendly solid-state platform. It is a sensible HDD replacement not only for corporate users, but also for those individual PC/Mac owners, who want to speed up large files processing. Although it has quite average write performance for a solid-state drive, OCZ TL100 SSD can boast of really impressive read speed.
But no matter how good a solid-state platform is, it is still vulnerable to various logical and physical failures including manufacturing defects, power cuts, failed firmware updates, writing errors and careless human actions. All of those factors often lead to temporary inaccessibility of files or even severe corruption.
OCZ TL100 SSD data recovery process: how it works for our clients
1.

YOU BRING

Bring or ship your failed storage media to our office for a free diagnostic evaluation.
2.

YOU APPROVE

Receive and approve an all-inclusive quote, so we can start the process immediately.
3.

WE RECOVER

Give us few days to recover your data and to copy it to a free return media.
4.

WE DELIVER

Get your data back, copy it to your computer and benefit from our free post-recovery support.
Free external hard drive or usb flash with each
completed
recovery
Luckily for the computer owners using the advantage of Toshiba OCZ TL100 SSDs, when critical files get locked on a data storage device, there is a sure way to recover intact information back. To do that, it is needed to call on the professional file retrieval service provider.
Our Experts are Ready to Recover Data from Your Failed OCZ TL100 SSD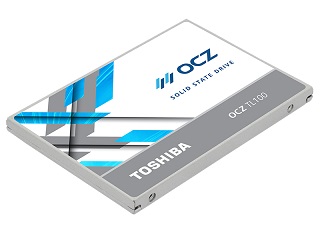 ACE Data Recovery, the only company in the United States capable to develop case-specific hardware tools and software pieces to handle any type of data storage device, offers a complete set of state-of-the-art solutions to recover crucial information from failed OCZ TL100 solid-state drives.
Unlike hard disk drives, SSDs require a lot of qualified time and specific technologies for successful file retrieval. Doubtful DIY solutions may worsen the situation and result in irretrievable file loss. On the contrary, dealing with real pros, forming the core of ACE Data Recovery team, improves chances of success. With more than 35 years of providing the A-grade technical services to businesses and households, ACEs have all the necessary know-how to retrieve any type of files.
Data recovery from OCZ TL100 SSDs: leave it to pros
Dealing with ACE Data Recovery experts is the most reliable way to prevent critical information from corruption and permanent loss. Lots of customer feedbacks prove that. Every year ACEs retrieve tons of vital information from a really impressive range of storage units. In case of need, the owner of OCZ TL100 SSDs relies on ACE Data Recovery team as well. The following thank you message was left by Edward L., a computer owner from Glendale, CA: "Thanks for saving my files, guys. I still can't believe you managed to recover most of my data."