OCZ Onyx series SSD - Solid State Drives Data Recovery
Data recovery from OCZ Onyx SSD - Solid State Drives Data Recovery
ACE Data Recovery team offers the full set of proven technical solutions for the professional OCZ Onyx series SSDs recovery. Certified specialists combine high technologies with extensive hands-on experience to get intact files from failed data storage devices. Successful data retrieval from OCZ Onyx series SSDs starts from the first call to ACE Data Recovery.
Although OCZ Onyx series SSDs aren't really capacious (fully formatted, they give only 29.7 GB of space), they can be called the affordable solid-state platforms with sensible app performance. Perhaps, the main pro of the Onyx drives is that storage units are affordable not only for business owners, but also for individual PC/Mac users.
OCZ Onyx SSD data recovery process: how it works for our clients
1.

YOU BRING

Bring or ship your failed storage media to our office for a free diagnostic evaluation.
2.

YOU APPROVE

Receive and approve an all-inclusive quote, so we can start the process immediately.
3.

WE RECOVER

Give us few days to recover your data and to copy it to a free return media.
4.

WE DELIVER

Get your data back, copy it to your computer and benefit from our free post-recovery support.
Free external hard drive or usb flash with each
completed
recovery
In spite of the fact that solid-state platforms are generally considered to be more reliable than traditional hard disk drives, this is not always the case. Just like HDDs, solid-state drives may fail due to logical or physical failures. OCZ's Onyx SSDs aren't an exception. So, a failed firmware update may result in partial or complete data wiping. Also, SSDs may fall victims to the overheating, careless human action and manufacturing defects.
Our Experts are Ready to Recover Data from Your Failed OCZ Onyx SSD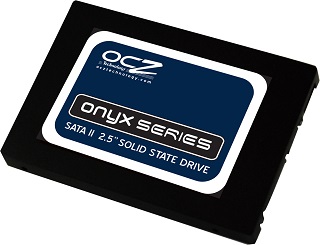 Still, even the failed solid-state drive isn't hopeless as there's a sure way to recover intact sensitive information even from severely corrupted storage unit. ACE Data Recovery team, the world's #1 provider of qualified file recovery services, has enough solutions to save crucial files from OCZ Onyx series SSD storages. The company's experts are capable to get info from Onyx, Onyx 2, Onyx 3 drives coming with Indilinx Amigo, Sandforce and Indilinx Barefoot 2 chipsets. In addition, as a fully independent services provider ACE Data Recovery team has all the necessary equipment to develop highly-specific tools and software pieces in order to improve chances of successful file recovery from faulty SSD storages.
With more than 35 years of providing data retrieval services, ACE Data Recovery makes the optimal choice for the computer users seeking a sure way to retrieve vital data from faulty OCZ Onyx series SSDs.
Data recovery from OCZ Onyx series SSDs: it's safe when you do it with ACE Data Recovery
To thank for the professional assistance with file retrieval, ACE Data Recovery customers often give feedbacks. The following message was left by William J., a resident of Monclova, OH:
"
I just want to thank you for saving my docs. Frankly, I was ready to say goodbye to my job. Luckily, you guys were there to recover files I needed so badly from a dead SSD. I'll definitely spread the word
".