OCZ Agility series SSD - Solid State Drives Data Recovery
Data recovery from OCZ Agility SSD - Solid State Drives Data Recovery
When there's a need to recover files from OCZ Agility series solid-state drives, it requires highly-specific tools and software to piece the tiniest parts of user data together and retrieve them safe and sound. With this in mind ACE Data Recovery team offers the world's best solutions for the professional OCZ Agility series SSD recovery.
Data recovery from OCZ Agility series SSDs is a service not many file recovery companies can provide. The point is, file retrieval from SSD storages itself requires both extensive experience and high technologies, not to mention state-of-the-art solutions to perform complex operations with severely damaged solid-state drives.
OCZ Agility SSD data recovery process: how it works for our clients
1.

YOU BRING

Bring or ship your failed storage media to our office for a free diagnostic evaluation.
2.

YOU APPROVE

Receive and approve an all-inclusive quote, so we can start the process immediately.
3.

WE RECOVER

Give us few days to recover your data and to copy it to a free return media.
4.

WE DELIVER

Get your data back, copy it to your computer and benefit from our free post-recovery support.
Free external hard drive or usb flash with each
completed
recovery
ACE Data Recovery team is the world's leader providing the A-grade file recovery services to large corporations, small business owners and individual users. For more than 35 years the company has developed a full set of technical solutions to handle any type of data storage device. Under the company's belt there are proven tools to recover vital information from OCZ's Agility, Agility EX, Agility 2, Agility 3, Agility 4, ARC 100 SSDs. Certified specialists have all the necessary know-how to deal with various chipsets including Indilinx Barefoot, Sandforce SF-1200, Sandforce SF-2281, Indilinx Everest, Indilinx Barefoot 3.
Our Experts are Ready to Recover Data from Your Failed OCZ Agility SSD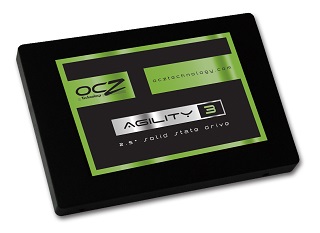 OCZ's Agility series solid-state drives are widely known as the fastest SSDs users can buy. With these drives, processing of large files is both fast and easy. Many PC/Mac users and companies dealing with tones of crucial information on a daily basis use the advantage of the Agility series drives.
Nevertheless, nothing lasts forever and even reliable OCZ Agility series SSDs may fail one day or another. That is why, to prevent important data from permanent loss, it is highly recommended to backup it on a regular basis. Still, when there's an urge to recover sensitive information from a faulty solid-state drive, there's no place like ACE Data Recovery.
File recovery from OCZ Agility series SSDs: let the customers talk
The following feedback was left by Brad D., a small business owner from Monroe, LA:
"
Thank you, guys, for saving the corporate files. I still think it was a good idea to replace the outdated drives with solid-state solutions. If it wasn't that pesky logical failure with one of the SSD storages, I would be completely happy. Anyway, I'm glad I contacted you for saving business-related files from my failed SSD drive
."