Toshiba HG6 series SSD - Solid State Drives Data Recovery
Data recovery from Toshiba HG6 SSD - Solid State Drives Data Recovery
Data recovery from Toshiba HG6 Series SSD is the first-rate service that ACE Data Recovery provides for corporate and individual computer users who prefer to use the latest technologies. Every year lots of computer owners call ACE Data Recovery professionals for qualified Toshiba HG6 Series SSD data recovery that requires state-of-the-art technologies and highly specific solutions to prevent critical files from complete loss.
The latest SSDs produced by Toshiba are very popular among business owners and individual computer users who prefer to store their data on high-speed storage devices. Toshiba HG6 Series SSD is a balanced solid-state drive that offers a great combination of high performance and low power consumption to satisfy a wide range of applications from notebook PCs to servers in the datacenter. The solid-state drive is based on Toshiba's own SSD controller and NAND flash memory and is well-optimized for consumer workloads.
Toshiba HG6 SSD data recovery process: how it works for our clients
1.

YOU BRING

Bring or ship your failed storage media to our office for a free diagnostic evaluation.
2.

YOU APPROVE

Receive and approve an all-inclusive quote, so we can start the process immediately.
3.

WE RECOVER

Give us few days to recover your data and to copy it to a free return media.
4.

WE DELIVER

Get your data back, copy it to your computer and benefit from our free post-recovery support.
Free external hard drive or usb flash with each
completed
recovery
Despite the fact that Toshiba HG6 Series SSDs are based on the latest technologies, they may fall victims of logical or physical failures caused by careless user actions or extensive use just like other types of storage devices. In such circumstances, the only possible way to retrieve vital files from a failed Toshiba HG6 Series SSD is to contact a professional data recovery services provider.
Our Experts are Ready to Recover Data from Your Failed Toshiba HG6 SSD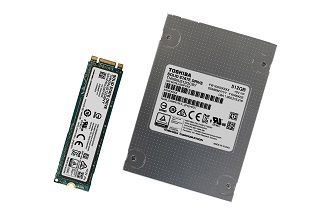 In case of serious data-related problems with any storage devices, the best choice is to rely on ACE Data Recovery certified engineers who are real professionals and know more about SSD recovery than anybody else. ACE Data recovery team, the world's #1 data retrieval service provider has developed the most efficient retrieval strategies and unique solutions that ensure safe and reliable data recovery from all types of storage devices. The company has state-of-the-art tools and solutions to simplify solid-state drives recovery procedures.
You should understand that in case of Toshiba HG6 series SSD failure, the process of recovering critical files can be very complicated so it can be performed only by experienced professionals. Do not hesitate to contact ACE Data Recovery support team for a consultation and hire the experts in data retrieval.
Toshiba HG6 Series data recovery: ACE Data Recovery customers are satisfied with high-quality services
ACE Data Recovery customers are happy when their vital files are recovered from faulty data storage devices. Lots of grateful feedbacks make the best proof of it. Some of them were left by Toshiba HG6 Series SSD owners who contacted ACEs for safe data retrieval. Here is one from Jack N. from Portland, OR: "My notebook was damaged when I accidentally spilled hot coffee on it. I thought that critical files with information about our new project were lost. But ACEs managed to get these files back and saved the results of my year's work. They are the real experts in SSD recovery."