WD SanDisk Wireless Storage Recovery - Flash Drives Data Recovery
SanDisk Wireless Storage recovery - Flash Drive Data Data Recovery
SanDisk Wireless Storage data recovery is one of the premium services that ACE Data Recovery team provides to both business keepers and individual users who prefer to live truly mobile lifestyle and appreciate cutting-edge technologies and the latest innovations. Data Recovery from SanDisk Wireless Storage requires qualified time and highly specific solutions to prevent vital files from permanent loss.
SanDisk Wireless Storage is a wireless flash drive that provides a new level of flexibility in mobile storage space and entertainment and enables easy accessing, sharing, and transferring of videos and photos between computers and mobile devices. It combines high capacity, wireless technology, is compatible with all operating systems, and allows sharing content with multiple devices at once.
SanDisk Wireless Storage data recovery process: how it works for our clients
1.

YOU BRING

Bring or ship your failed storage media to our office for a free diagnostic evaluation.
2.

YOU APPROVE

Receive and approve an all-inclusive quote, so we can start the process immediately.
3.

WE RECOVER

Give us few days to recover your data and to copy it to a free return media.
4.

WE DELIVER

Get your data back, copy it to your computer and benefit from our free post-recovery support.
Free external hard drive or usb flash with each
completed
recovery
Nevertheless, no matter how good SanDisk Wireless Storage is, extensive use and careless user actions may result in serious logical/physical failures and you can lose your most valuable photo and video files. In such cases, the only safe way to retrieve vital data from a failed SanDisk Wireless Storage is to contact a professional data recovery services provider.
Our Experts are Ready to Recover Data from Your Failed SanDisk Wireless Storage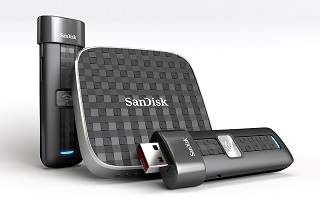 In case of serious data related problems, the best solution is to rely on the high professionalism of ACE Data Recovery team members who have all the necessary expertise to retrieve important information from any type of a storage device. For more than 35 years of providing the high-grade services in the field of file recovery, ACE's engineers have developed the most efficient retrieval strategies in the industry and can create custom solutions for unusual cases. All operations with data storage devices are performed in the company's proprietary laboratories so there is no need to pay extra money for outsourcing.
Please keep in mind that data retrieval from SanDisk Wireless Storage can be a very complicated process and only professional assistance can ensure your data safety. Don't hesitate to contact ACE Data Recovery support team for a consultation and hire certified specialists who are capable of recovering any file type from SanDisk Wireless Storage.
SanDisk Wireless Storage data recovery: ACE Data Recovery experts can retrieve intact files back
There is nothing for ACE Data Recovery customers like getting important files back from failed data storage devices. Many grateful feedbacks make the best proof of this. Here is one from William B., a happy owner of SanDisk Wireless Storage from Seattle, WA:
"
After I had been told that my SanDisk Wireless Storage where I kept my videos was beyond repair by another data recovery company, I contacted ACE Data Recovery for help. They did it. They recovered almost all my data. It's a very efficient service
."