WD SanDisk USB Drives Recovery - Flash Drives Data Recovery
SanDisk USB Drives recovery - Flash Drive Data Data Recovery
SanDisk USB Drives data recovery is one of the high-grade services that ACE Data Recovery, world's #1 data retrieval service provider, offers to businesses and individual computer users who prefer to use state-of-the-art solutions to improve their virtual experience. Professional data recovery from SanDisk USB Drives requires cutting-edge technologies and highly specific solutions to prevent vital files from severe corruption and irretrievable loss.
SanDisk USB Drives combine fast data speed and high capacity in a small stylish package. SanDisk USB units make a real catch for computer users looking for a reliable data storage solution that can keep their favorite media and important documents, including graphic files, MP3s, high-resolution photos, presentations, and movies. The drive has a stylish portable design and can easily travel with a user in a pocket or a handbag.
SanDisk USB Drives data recovery process: how it works for our clients
1.

YOU BRING

Bring or ship your failed storage media to our office for a free diagnostic evaluation.
2.

YOU APPROVE

Receive and approve an all-inclusive quote, so we can start the process immediately.
3.

WE RECOVER

Give us few days to recover your data and to copy it to a free return media.
4.

WE DELIVER

Get your data back, copy it to your computer and benefit from our free post-recovery support.
Free external hard drive or usb flash with each
completed
recovery
Nevertheless, no matter how good SanDisk USB Drives are, just like any other types of storage devices, they can get corrupted or damaged and you can lose your important information. In such cases, the only safe way to retrieve sensitive information from a faulty SanDisk USB Drive is to contact a professional data recovery service provider.
Our Experts are Ready to Recover Data from Your Failed SanDisk USB Drives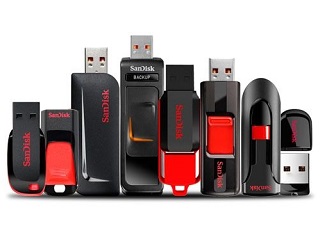 In case of urgent data related problems, the best choice is to rely on ACE Data Recovery experts' experience. ACEs have been in IT business since 1981 and have developed the most efficient data recovery strategies in the industry. ACE Data Recovery engineers can create custom solutions for unusual cases and all data retrieval operations are done in the company's full service labs. That means there is no need to pay extra money for outsourcing.
Please keep in mind that in case of SanDisk USB Drive failure, data retrieval can be a complicated process, and only professional assistance can ensure your files safety. Don't hesitate to call ACE Data Recovery support line and hire experienced professionals who can recover any type of files from SanDisk USB Drive.
Data recovery from SanDisk USB Drives: ACE Data Recovery customers are satisfied with the service
There is nothing for ACE Data Recovery customers like getting vital information back from failed data storage devices. Lots of grateful feedbacks make the best proof of it. Here is one from Michael B., a happy owner of SanDisk USB Drive from Miami, FL:
"
Last month I accidentally damaged my SanDisk USB Drive that contained important documents. I thought that weeks of hard work were lost. ACEs did a great job and recovered all my files. Thanks a lot
".