WD SanDisk Optimus SAS SSD Recovery - Solid State Drive Data Recovery
SanDisk Optimus SAS SSD recovery - Solid State Drive Data Recovery
ACE Data Recovery, the world's best expert in retrieving temporarily lost information from faulty hard drives, RAID/NAS/JBOD volumes and portable data storage devices, offers the A-grade SanDisk Optimus SAS SSD recovery services to those computer owners who faced serious issues with their data accessibility. Data recovery from SanDisk Optimus SSDs requires special equipment and environment. That is why dealing with ACEs is the best way to prevent vital info from severe corruption.
According to SanDisk experts' assurances, 4TB Optimus solid-state drives allow to optimize many business processes and distribute the workloads over the less number of servers in comparison with the traditional way of data storage/processing.
SanDisk Optimus SAS SSD data recovery process: how it works for our clients
1.

YOU BRING

Bring or ship your failed storage media to our office for a free diagnostic evaluation.
2.

YOU APPROVE

Receive and approve an all-inclusive quote, so we can start the process immediately.
3.

WE RECOVER

Give us few days to recover your data and to copy it to a free return media.
4.

WE DELIVER

Get your data back, copy it to your computer and benefit from our free post-recovery support.
Free external hard drive or usb flash with each
completed
recovery
To keep user data in safety, SanDisk Optimus SSDs use the advantage of NAND flash memory. Unfortunately, it doesn't make the solid-state drives immune to failures, So, if one or more of the NAND RAM memory chips has dead cells inside, the OS often gets locked in a busy state and all files on the computer get inaccessible.
Our Experts are Ready to Recover Data from Your Failed SanDisk Optimus SAS SSD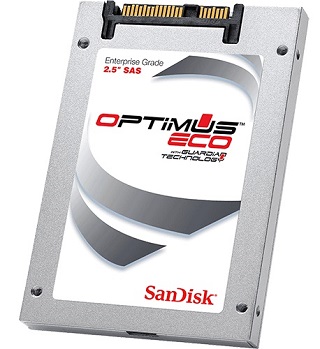 Fortunately, certified technicians, forming the core of ACE Data Recovery team, have extensive hands-on experience in dealing with the faulty solid-state solutions. Although, file recovery from SanDisk Optimus SAS SSDs is a very complex procedure, ACEs will try hard to get as many intact files off a faulty data storage as possible. In case of need, they even can develop unique hardware tools and software pieces to improve chances of a favorable outcome. In fact, ACE Data Recovery is the only US company in the industry capable to develop technical solutions onsite.

Among ACE Data Recovery customers there are computer owners, who prefer to use SanDisk Optimus SAS solid-state drives to process and store priceless information. When nasty things happen to the data storage devices, their owner call on ACEs for the professional assistance with data recovery.
Lightning Gen. II SAS drives recovery is safe when you do it with ACE Data Recovery
Often customers leave short thank you messages to show they are happy with the company services. Here's what the company got from Leslie G., a resident of The Colony, TX:
"
Gee, thanks a lot, guys. I still can't believe I got most files back after that horrible fire accident. Tell you want though, in case of another data-related problem, I'll definitely send another bunch of SanDisk SSDs to ACE Data Recovery
."