WD SanDisk Extreme PRO SATA SSD Recovery - Solid State Drive Data Recovery
SanDisk Extreme PRO SATA recovery - Solid State Drive Data Recovery
Providing the best SanDisk Extreme PRO SATA SSD recovery services in the industry, ACE Data Recovery team helps businesses to prevent sensitive information from permanent loss in case of a data storage device failure. The point is, successful file recovery from SanDisk Extreme PRO SATA SSD requires highly-specific solutions many recovery shop can't provide. That is why, ACEs make the optimal choice as they can develop case-specific solution in order to ensure intact files safety.
For large companies and startups seeking the cutting-edge solutions to improve data processing and safety, SanDisk Extreme PROSATA SSDs make the best option. Lightning-fast, capacious and efficient, they allow to take their owners' computing experience to the higher level.
SanDisk Extreme PRO SATA data recovery process: how it works for our clients
1.

YOU BRING

Bring or ship your failed storage media to our office for a free diagnostic evaluation.
2.

YOU APPROVE

Receive and approve an all-inclusive quote, so we can start the process immediately.
3.

WE RECOVER

Give us few days to recover your data and to copy it to a free return media.
4.

WE DELIVER

Get your data back, copy it to your computer and benefit from our free post-recovery support.
Free external hard drive or usb flash with each
completed
recovery
Featuring real-time error correction, SanDisk Extreme PRO SATA solid-state drives may ensure critical files safety. But sometimes it may happen that drive owners may need to contact a professional file recovery services provider in order to get important files off the state-of-the-art SSD storage. In fact, SanDisk Extreme PRO SATA SSDs may fall victims to physical and logical failures due to wide range of reasons including careless human actions, manufacturing defects and overheating.
Our Experts are Ready to Recover Data from Your Failed SanDisk Extreme PRO SATA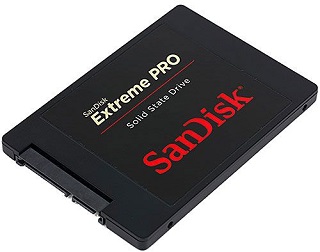 ACE Data Recovery, the world's leading provider of qualified data retrieval services, offers the full set of the highly-specific solutions for the computer owners having an urge in safe SanDisk Extreme PRO SATA SSD recovery. Experienced specialists forming the core of the team are capable to develop case-specific tools and software pieces to read intact data from the faulty or even severely damaged solid-state drives.
It's not a secret that even the most reliable hard drive may fail one day. And when it happens, ACE Data Recovery experts are there to offer the most reliable way to retrieve critical files back safe and sound.
Among other technical services, ACE Data Recovery specialists offer state-of-the-art file recovery solutions for safe and comfortable SanDisk Extreme PRO SATA SSDs data retrieval. Every year the company gets orders from SanDisk SSD storages owners and retrieves terabytes of vital information. Grateful customers often leave thank you messages in order to share their feelings with ACEs and other company customers.
SanDisk Extreme PRO SATA SSDs recovery: looks like it's job for ACE Data Recovery team
Here's a feedback from Paul M., a computer owner from Alexandria, VA, he left after ACEs managed to recover most of his data from deformed SanDisk Extreme PRO SATA SSD:
"
Great job, folks. Really, I'm very impressed with the result. As soon as I know, it's hardly possible to recover all files from a failed SSD but you were close to deny that. Thank you so much for the saved files.
"