SanDisk Memory Cards recovery - Flash Drive Data Data Recovery
SanDisk Memory Cards data recovery requires qualified time and highly specific solutions in order to prevent vital files from severe corruption and permanent loss. Data recovery from SanDisk Memory Cards is one of the premium services that ACE Data Recovery team, world's leading data recovery services provider, offers to corporate and individual computer users who wants to choose the most advanced solutions in order to enrich their virtual experiences.
SanDisk Memory Cards make a perfect choice for those IT-savvy users who appreciate the exceptional performance, capacity, and reliability and look for reliable storage devices suitable for every occasion. They have a durable design, can withstand the toughest conditions, and are trusted by professional photographers and videographers.
SanDisk Memory Cards data recovery process: how it works for our clients
Free external hard drive or usb flash with each
completed
recovery
Nevertheless, no matter how good SanDisk Memory Cards are, your vital photo and video files that you store on the memory cards can get inaccessible, corrupted or lost due to many reasons: human error, logical or physical failures. The best way to get sensitive information back from a defective memory card is to contact certified specialists in file recovery.
Our Experts are Ready to Recover Data from Your Failed SanDisk Memory Cards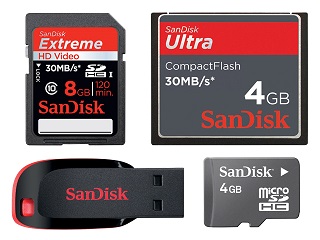 ACE Data Recovery has been providing premium data retrieval services for over 35 years and has all the necessary tools and strategies for safe and reliable file recovery from all types of data storage devices. All procedures with data storage devices are performed in the company proprietary labs and there is no need for outsourcing. That allows keeping the prices for A-grade services affordable for all customers.
You should keep in mind that in case of SanDisk Memory Card failure only professional assistance can ensure your files safety. Don't hesitate to contact ACE Data Recovery support team for a consultation and hire experienced professionals who are capable of recovering any type of files from any type of memory cards.
Data recovery from SanDisk Memory Cards: ACE Data Recovery customers are happy with it
ACE Data Recovery staff members have many grateful feedbacks from their satisfied customers. Some of them were left by the owners of SanDisk Memory Cards who contacted the company for top notch data retrieval services. Here is the message left by Daniel S., a happy owner of SanDisk Memory Card from Dallas, TX:
"
Thanks for saving my precious videos, guys.
My memory card was corrupted
and it contained important images and videos. I thought they were lost forever, but ACE Data Recovery specialists got my files back. I am absolutely happy with your services
."