Intel SSD D3 S4510 Series Data Recovery - Solid State Drive Recovery
Intel SSD D3 S4510 Series Data Recovery - Solid State Drive Recovery
The Intel D3 S4510 is a reliable data center SSD that is designed to replace HDDs and is compatible with existing SATA setups for easy storage upgrades. The drive is based on 64-layer Intel 3D NAND TLC, which reduces the storage operating cost, accelerates read-intensive workloads at higher service levels, and improves overall system reliability and flexibility. The Intel D3 S4510 SSD meets demanding service level requirements and increases server efficiency.
The SSD features end-to-end data protection that helps keep data safe even in the event of power failure. However, the Intel D3 S4510 has a limited number of write cycles, and just like any SSD, it will eventually wear out, making your critical data inaccessible. At that point you will need professional assistance to get your data back, and ACE Data Recovery is ready to help you.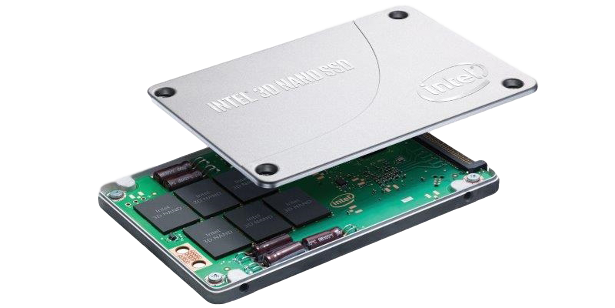 We have been providing a wide range of data recovery services for more than 35 years and our expertise include hard disk drive recovery, SSD recovery, virtualization recovery, SQL server recovery, RAID recovery, flash storage recovery, and much more. Our engineers have extensive experience in working on Intel SSDs, including the D3 S4510, and can boast a 98% success rate.
Intel SSD D3 S4510 series data recovery process: how it works for our clients
1.

YOU BRING

Bring or ship your failed storage media to our office for a free diagnostic evaluation.
2.

YOU APPROVE

Receive and approve an all-inclusive quote, so we can start the process immediately.
3.

WE RECOVER

Give us few days to recover your data and to copy it to a free return media.
4.

WE DELIVER

Get your data back, copy it to your computer and benefit from our free post-recovery support.
Free external hard drive or usb flash with each
completed
recovery
If we don't deliver the promised results, our No Data – No pay policy enables you to walk away with zero balance on your invoice! Call us to get started!
Just bring your crashed Intel D3 S4510 SSD to one of our labs, processing centers, or ship it directly to us and we will take care of the rest. We will diagnose your SSD drive for free and contact you within 48 hours to inform you of what can be done to restore your data along with the exact cost for recovery. If the price is acceptable for you, we'll start the recovery process in one of our private labs equipped with the latest technology.
We ensure that we provide the exact conditions required for conducting even the most complex recovery cases. We never outsource recovery project so your data is always safe with us. The usual turnaround time for recovery is between 2 to 5 days. However, if for any reason, we fail to recover your data, you pay us nothing. We are proud to uphold a "No data – No charge" policy and always do our best to exceed our customers expectations.