HGST Ultrastar Helium Recovery - Hard Drive Data Recovery
HGST Ultrastar Helium Recovery - Hard Drive Data Recovery
A team of certified technicians forming ACE Data Recovery team offers state-of-the-art solutions for the professional HGST Ultrastar Helium SAS and SATA hard drives recovery. To cope with new generation of the hard disk drives, ACEs try their best and develop highly-specific tools and software pieces. That is why retrieving files from failed HGST Ultrastar Helium SAS and SATA HDDs with ACE Data Recovery is safe and efficient.
Ultrastar Helium platform hard disk drives make the latest effort of HGST specialists to create a hard drive for corporations and small businesses seeking capacious and fast file storage platforms. In addition, new HDDs are less power-consuming in comparison with the traditional internal hard drives.
Nevertheless, HGST Ultrastar Helium SAS and SATA hard drives have weak spots. The first one is the high unit cost. Still, the main problem is that Helium platform file storages feature new technology that hasn't a track record yet. In other words, it may happen that all critical files on a drive may get inaccessible due to a sudden device failure.
HGST Ultrastar Helium data recovery process: how it works for our clients
1.

YOU BRING

Bring or ship your failed storage media to our office for a free diagnostic evaluation.
2.

YOU APPROVE

Receive and approve an all-inclusive quote, so we can start the process immediately.
3.

WE RECOVER

Give us few days to recover your data and to copy it to a free return media.
4.

WE DELIVER

Get your data back, copy it to your computer and benefit from our free post-recovery support.
Free external hard drive or usb flash with each
completed
recovery
Our Experts are Ready to Recover Data from Your Failed HGST Ultrastar Helium Drive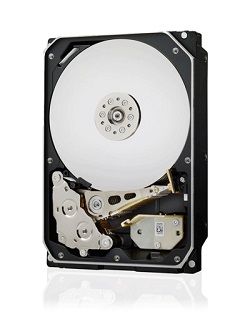 To retrieve vital information from a corrupted hard disk drive it's not enough to be an IT-savvy geek. Actually, some DIY solutions may come in handy sometimes. However, in most cases of data storage device failure it is strongly recommended to call on professional file recovery services providers. It's especially true when it comes to Ultrastar Helium SAS and SATA hard drives. The point is, careless data recovery attempts may result in severe files corruption and irretrievable data loss.
To avoid the risk of data loss, the smartest decision is to entrust defective Ultrastar Helium HDD to ACE Data Recovery experts. For more than 35 years of providing the first-grade services in field of file retrieval, ACEs have developed a wide range of unique tools to cope with the most complex cases of data inaccessibility. To ensure data safety, ACE Data Recovery specialists use the advantage of the proprietary labs and have Class 100 cleanroom environment for successful hard drive data retrieval.
Ultrastar Helium SAS and SATA hard drives recovery: it's much easier when you do it with ACEs
In case of serious data-related issues lots of Ultrastar Helium hard drives owners in the United States call on ACE Data Recovery in order to get priceless information back. Often, grateful customers leave thank you messages in order to share their happy experience in data recovery with other computer owners. Michael F., resident of Gilbert, AZ: "Thanks for saving my files folks. It's nice to know you are there to get important data from failed hard drives".