Dell Vostro Desktops - Hard Drive and SSD Data Recovery
Data recovery from Dell Vostro Desktops - SSD and HDD Recovery
For small business owners owning Dell Vostro Desktops, file recovery services provided by ACE Data Recovery team make the most reliable way to get critical files from hard drives affected by logical or physical failures. Professional data retrieval from Dell Vostro Desktops is what you really need to stay in business when a nasty thing happens to your database.
No doubts, Dell Vostro desktops make the right choice for those small company owners who really care of their customer database and other precious information related to business. Combining high performance with smart security features, Vostro computers will help to process vital files with maximum efficiency and prevent them from corruption.
Nevertheless, nasty things can happen even to the most advanced devices. The same is for Dell Vostro products. A failed system upgrade, serious human error, physical shock or manufacturing defect may easily make all important files inaccessible. When it happens, there are two main ways to get critical info back safe and sound.
Dell Vostro Desktops data recovery process: how it works for our clients
1.

YOU BRING

Bring or ship your failed storage media to our office for a free diagnostic evaluation.
2.

YOU APPROVE

Receive and approve an all-inclusive quote, so we can start the process immediately.
3.

WE RECOVER

Give us few days to recover your data and to copy it to a free return media.
4.

WE DELIVER

Get your data back, copy it to your computer and benefit from our free post-recovery support.
Free external hard drive or usb flash with each
completed
recovery
The first one is to try luck with one of those file recovery software piece that can be found on the Internet. Though, careless using of random programs on a faulty hard disk drive or SSD storage may result in severe data corruption and irretrievable file loss. So, if you value priceless business information, you'd better go to the second way.
Our Experts are Ready to Recover Data from Your Failed Dell Vostro Desktops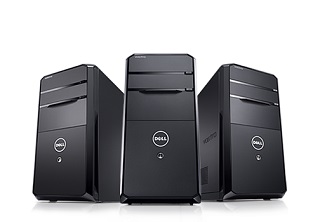 The second reliable way to save crucial files from loss is to rely on qualified solutions offered by certified specialists forming the core of ACE Data Recovery team. Those guys have all the necessary know-how to piece the tiniest parts of intact data together and retrieve them off the failed Vostro desktops' HDD/SSD storage units in one piece.
ACE Data recovery experts rely on the unique hardware tools developed in-house. The company has own laboratory to develop highly-specific solutions in case of need. That makes the A-grade file retrieval affordable for Dell Vostro desktop users owning small businesses.
File retrieval from Dell Inspiron Desktops: ACE Data Recovery customers are happy with it
Among ACE Data Recovery customers there are Vostro products owners. Usually, those are small business owners having serious issues with the critical files accessibility. Some of thank you messages left by happy clients belong to them. Here's one from Jeffrey, Dell Vostro desktop owner from Frisco, TX.
"
Tell you what, thanks to ACE Data Recovery guys I do believe in magic. A month or so ago I got very serious issue with a couple of corporate desktops because of the fire. One of those computers was new Dell's Vostro. In fact, it was nothing but a complete wreck when I saw it last time. Still I really needed to get important files off it, so I decided to try my luck with ACE Data Recovery company. And I was right! In a week I got all files I needed so badly back. Isn't that a miracle
"?