Dell OptiPlex Desktops - Hard Drive and SSD Data Recovery
Data recovery from Dell OptiPlex Desktops - SSD and HDD Recovery
Dell OptiPlex Desktops data recovery requires professional highly specific solutions to prevent crucial files from complete loss. Data recovery from Dell OptiPlex Desktops is one of the first- rate services offered by ACE Data Recovery team, the leading world's file retrieval service providers to business and individual computer users who choose the most advanced solutions to improve their virtual experience.
Dell's OptiPlex line is specifically built for business use and is characterized by durable design, high performance, comfortable keyboard, and strong features that can meet the needs of mobile professionals. These products are top-notch companions of mobile workers and are also good for educational purposes.
Dell OptiPlex Desktops data recovery process: how it works for our clients
1.

YOU BRING

Bring or ship your failed storage media to our office for a free diagnostic evaluation.
2.

YOU APPROVE

Receive and approve an all-inclusive quote, so we can start the process immediately.
3.

WE RECOVER

Give us few days to recover your data and to copy it to a free return media.
4.

WE DELIVER

Get your data back, copy it to your computer and benefit from our free post-recovery support.
Free external hard drive or usb flash with each
completed
recovery
Nevertheless, no matter how good Dell OptiPlex line products are, extensive use and careless customization may cause serious logical and physical failures of their storage devices. In this case, critical files stored on hard drives may become temporarily inaccessible or even corrupted. So, to prevent vital data from permanent loss, all computer users should make regular data backups, and keep crucial information on an external storages or network-attached devices.
Our Experts are Ready to Recover Data from Your Failed Dell OptiPlex Desktops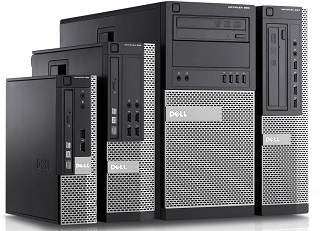 If there is an urgent need to retrieve vital data from a faulty Dell OptiPlex series product, the best way to solve this problem is to contact certified specialists from ACE Data Recovery company. ACE Data Recovery company has been providing the A-grade technical services for more than 35 years and has developed the most advanced tools and strategies for safe and efficient data retrieval from all types of data storage platforms. All procedures with faulty data storage devices are performed in the company's proprietary laboratory. Even if a hard drive is seriously damaged, the company's experts can develop some unique hardware tools to retrieve vital files.
You should keep in mind that in case of a Dell OptiPlex Desktop failure, only professional assistance with data recovery can ensure that your data will be safe. Don't hesitate to call ACE Data Recovery support line and hire certified specialists.
Data recovery from Dell OptiPlex Desktops: ACE Data Recovery customers are satisfied with the quality
ACE Data Recovery team has lots of grateful feedback from happy customers. Here is one from David B., a happy owner of Dell's OptiPlex desktop from Dallas, TX:
"
A month ago I was so frustrated that my precious business documents got inaccessible. I didn't believe I could get my data back. But ACE Data Recovery specialists did it. They really saved my files. Thanks for a great job
."