Dell Inspiron Desktops - Hard Drive and SSD Data Recovery
Data recovery from Dell Inspiron Desktops - SSD and HDD Recovery
File retrieval from Dell Inspiron Desktops is the service ACE Data Recovery team provides to both business keepers and individual users who appreciate full-size desktop performance in a space-saving casing. Every year thousands of computer owners call ACE Data Recovery for professional Dell Inspiron Desktops file retrieval.
Dell's Inspiron Desktops are widely known as highly productive all-in-one computers combining state-of-the-art productivity and entertainment features. Inspiron Desktops make a real catch for small business owners looking for a reliable hi-tech solution for processing tons of vital information in no time.
Dell Inspiron Desktops data recovery process: how it works for our clients
1.

YOU BRING

Bring or ship your failed storage media to our office for a free diagnostic evaluation.
2.

YOU APPROVE

Receive and approve an all-inclusive quote, so we can start the process immediately.
3.

WE RECOVER

Give us few days to recover your data and to copy it to a free return media.
4.

WE DELIVER

Get your data back, copy it to your computer and benefit from our free post-recovery support.
Free external hard drive or usb flash with each
completed
recovery
Nevertheless, no matter how good Dell Inspiron series products are, they still use physical drives (HDD or SSD) to keep sensitive information safe. In case of a storage unit failure, all vital data may get temporarily inaccessible or even corrupted. So, to save crucial files from permanent loss, it's strongly recommended to make regular data backups and keep them on an external storage device or network-attached device.
Our Experts are Ready to Recover Data from Your Failed Dell Inspiron Desktops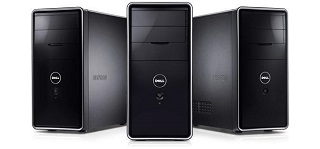 If there's an urge to get vital information back from faulty Dell Inspiron series product, the best choice is to call on ACE Data Recovery specialists' experience. For more than 35 year of providing the A-grade services in field of file recovery, ACEs have developed the most efficient data retrieval strategies in the industry. Every operation with data storage devices is performed in company's proprietary laboratory. That means, there's no need to pay extra money for the outsourcing.
Please, keep in mind, in case of a Dell Inspiron computer failure only professional assistance with file retrieval may ensure your data safety. Don't hesitate call ACE Data Recovery support line for consultation and hiring certified specialists capable to recover any file type from faulty Inspiron Desktop.
File retrieval from Dell Inspiron Desktops: ACE Data Recovery customers are happy with it
There's nothing for ACE Data Recovery customers like getting important information back from failed hard disk drives, solid-state units and other file storage platforms. Lots of feedbacks make the best proof of this. Here's one from Reginald B., a proud owner of Dell's Inspiron Desktop from Dallas, TX:
"
I'd like to share my joy here. I'm absolutely happy with services I got from ACE Data Recovery company. A month ago, I encountered a serious problem with my Inspiron desktop. Something went wrong with the computer's hard drive and all my files were locked inside it. Lucky me, I had ACEs' phone number around. To put it short, in a couple of days I got the majority of my files back on a brand new HDD. And most importantly, all critical files I needed so much were successfully recovered. Thanks for the great job, ACE Data Recovery!
"