Dell Alienware Desktops - Hard Drive and SSD Data Recovery
Data recovery from Dell Alienware Desktops - SSD and HDD Recovery
Data recovery from Dell Alienware Desktops is a special service that is in popular demand among those ACE Data Recovery customers who can't live without gaming. As soon as even the most advanced computers aren't immune to physical/logical failures, Dell Alienware Desktops data retrieval services from the world's leader in file saving may come in handy for many fans of the computer games.
Alienware desktops series is a real boon to millions of gamers from pole to pole. Those Dell's products allow to maximize gaming performance and get the best emotions from playing favorite games. Combining lots of the cutting-edge technologies, the desktops are designed to minimize the power usage and improve data access speed.
Dell Alienware Desktops data recovery process: how it works for our clients
1.

YOU BRING

Bring or ship your failed storage media to our office for a free diagnostic evaluation.
2.

YOU APPROVE

Receive and approve an all-inclusive quote, so we can start the process immediately.
3.

WE RECOVER

Give us few days to recover your data and to copy it to a free return media.
4.

WE DELIVER

Get your data back, copy it to your computer and benefit from our free post-recovery support.
Free external hard drive or usb flash with each
completed
recovery
In spite of the fact that Dell Alienware computers are state-of-the-art gaming platforms, they are immune to various physical and logical failures, just like any other desktop. Things may get wrong after a failed OS upgrade, careless human actions or manufacturing defects. As a result, important data such as the latest mods and game updates/statistics may get inaccessible or even damaged.
Our Experts are Ready to Recover Data from Your Failed Dell Alienware Desktops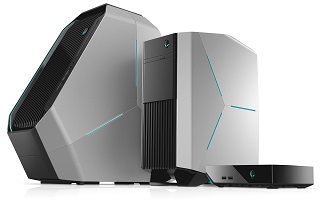 The best way prevent critical files from permanent loss and retrieve them from a faulty Alienware desktop is to call on ACE Data Recovery team. With more than 35 years of providing the A-grade technical services in field of file recovery, ACEs can beat any similar company in the United States. The point is, ACE Data Recovery is the only US company that can develop highly-specific tools and software pieces to get sensitive information back from faulty file storage devices.
When it comes to Dell Alienware Desktops using solid-state drives to keep user data in safety, ACE Data Recovery company is equipped well enough to get every single intact piece of data even from severely deformed or overheated SSD unit. Even the most complex cases of data inaccessibility make no issue for certified specialists forming the core of ACE Data Recovery team.
Data recovery from Dell Alienware Desktops: ACE Data Recovery customers are happy with it
Among ACE Data recovery customers there are lots of gamers. Some of them use the advantage of Dell Alienware products to enjoy favorite games. Often, they leave thank you messages to let other people know ACEs are the best. Here's what the company got from Reginald, a gamer from Dallas, TX:
"
I'd like to thank you guys for your job. Frankly, you saved a great part of my happy life. After that bad accident with my Alienware desktop I realized there's, at least, one file recovery company that keep the word. Thank you for saving the game files. I was really happy to get them back safe and sound
."