Buffalo TeraStation Recovery - RAID NAS Data Recovery
Buffalo TeraStation recovery - RAID Data Recovery
The extended family of Buffalo TeraStation™ network attached storages offers a range of options for both businesses owners and ACE Data Recovery experts. Professional data recovery from TeraStation™ 5010 Series, 1000 Series, 5000N Series, 5000N WSS Series, 3010 Series, WSH5610DN, StorageCraft® Recovery Center 25 and 7000 Series NASs is not a sort of challenge a couple of IT-savvy users can meet.
Thinking about essential need of business owners, Buffalo specialists designed a few series of enterprise-class non-Flash network attached storages. The drives can be used as optimal solutions to increase data performance and storage capacity. In addition, some TeraStation™ can be used as reliable backup and disaster recovery solutions. According to a series of reviews, Buffalo business-oriented storage drives are cost-efficient and reliable in equal measure.
Buffalo TeraStation data recovery process: how it works for our clients
1.

YOU BRING

Bring or ship your failed storage media to our office for a free diagnostic evaluation.
2.

YOU APPROVE

Receive and approve an all-inclusive quote, so we can start the process immediately.
3.

WE RECOVER

Give us few days to recover your data and to copy it to a free return media.
4.

WE DELIVER

Get your data back, copy it to your computer and benefit from our free post-recovery support.
Free external hard drive or usb flash with each
completed
recovery
Just like other well-known network attached storages, Buffalo TeraStation™ drives are multi-level data-storage servers using RAID technology to organize data. The technology allows to achieve additional storage capacity and protect important information from corruption, and permanent loss.
On the other hand, all RAID arrays share the same weak spots: an overheated drive in an array, careless human actions, sudden power surge or failed firmware upgrade can result in temporary data loss or even overwriting.
Our Experts are Ready to Recover Data from Your Failed Buffalo TeraStation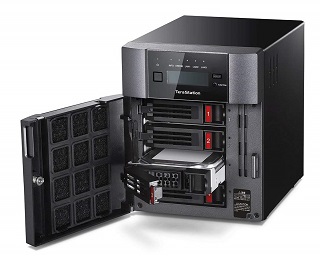 Since 1981, ACE Data Recovery offers the A-grade file recovery services to individual users and businesses. These days the company has a record of success that is unmatched in the industry! A team of high-qualified specialists hired from all over the world can meet any challenge in field of data recovery and get crucial files from failed NAS, SAN and iSCSI SAN arrays. With more than 35 years' hands-on experience, ACE Data Recovery is the only US company capable to develop in-house recovery solutions in order to restore files other service providers can't. When it comes to RAID recovery, ACEs have a broad range of tools and software pieces that improve chances of a favorable outcome.
Buffalo TeraStation data recovery: ACE Data Recovery experts can retrieve intact files back
Still, even if your precious files got inaccessible due to mechanical, physical or logical RAID failure, there's a chance to get intact information from a Buffalo TeraStation™ NAS. All you need is to give up trying to save the day on your own and call ACE Data Recovery for professional assistance.
Not least, the company has customer-oriented price policy. To be more specific, those guys charge their customers for successfully completed cases only.
No Data — No Charge
is the real principle of ACE Data Recovery, the world's best provider of file recovery services.