Buffalo LinkStation Recovery - RAID NAS Data Recovery
Buffalo LinkStation recovery - RAID Data Recovery
If there's no way to access critical files on your Buffalo LinkStation™ NAS drive, it's about time to call ACE Data Recovery for help To prevent important information from severe corruption, unintentional overwriting and permanent loss, order the A-grade LinkStation™ NAS drive recovery services from ACE Data Recovery, the world's leader in field of sensitive information recovery.
Buffalo LinkStation™ 441DE, 500 Series and 200 Series storage drives are the best low-cost devices for households and small businesses looking for a reliable network storage for a fair price. Just like other network attached storages, LinkStation™ drives use the advantage of RAID technology to keep sensitive data safe and ensure lightning-fast performance.
Buffalo LinkStation data recovery process: how it works for our clients
1.

YOU BRING

Bring or ship your failed storage media to our office for a free diagnostic evaluation.
2.

YOU APPROVE

Receive and approve an all-inclusive quote, so we can start the process immediately.
3.

WE RECOVER

Give us few days to recover your data and to copy it to a free return media.
4.

WE DELIVER

Get your data back, copy it to your computer and benefit from our free post-recovery support.
Free external hard drive or usb flash with each
completed
recovery
For more than 35 years, ACE Data Recovery provides the industry-leading services to corporate and individual users having serious issues with their data accessibility. Since 1981, the company has developed lots of proprietary solutions that improve chances of a successful NAS, SAN or iSCSI SAN recovery. ACE Data Recovery is, to date, the only US company capable to develop in-house tools combining the cutting-edge technologies with extensive hands-on experience.
Our Experts are Ready to Recover Data from Your Failed Buffalo LinkStation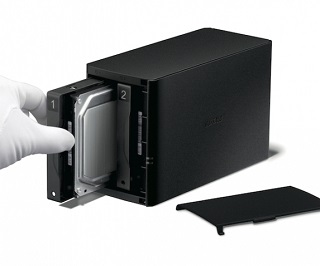 Despite their overall reliability, Buffalo NASs can fall victims to physical and logical failures, common to RAID arrays including failed RAID volume rebuild, unintentional file deletion/overwriting, multiple drive failure, sudden power surges, server crash and RAID controller malfunction. As a result, one day or another you can face a bad situation known as temporary data loss. The best way to save the day and get important information off a failed network storage is to leave all the hard work to ACE Data Recovery. If your files weren't severely corrupted or overwritten, a team of the first-rate technicians hired from all over the globe can recover every single intact piece of data from failed or even completely dead Buffalo LinkStation™ NAS drive.
Buffalo LinkStation data recovery: ACE Data Recovery experts can retrieve intact files back
Sure thing, professional file recovery cost money. Sometimes, it can be pretty expensive. Nevertheless, the unpleasant prospect of permanent losing critical data is disastrous for both corporations and average PC/Mac users. In addition, well-trained experts wearing static-proof garments and working in a cleanroom environment stand a better chance than a team of IT-savvy do-it-yourselfers in a dusty old garage.
Speaking of service prices, ACE Data Recovery has another pleasant surprise for you. The company charges its customers for successful recoveries only. In other words, you don't have to pay for "bad shots." No Data — No Charge concept on which ACE Data Recovery's customer policy is built.