ACE Data Recovery Articles | Computer Hard Drive Failure
Computer Hard Drive Failure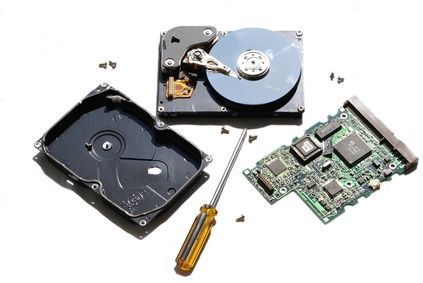 If you find that your personal or business computer suddenly stops responding to your commands, or the hard drive simply crashes, what are you going to do? Sure, you can run down to your neighborhood electronics store and purchase a replacement hard drive for your computer, but what about your data on the failed hard drive? How important was it? Did you save it or back it up? Unfortunately, most home users do not back up their systems, and many small businesses have older back-up procedures that are often ineffective for recovering files.
The first thing to do is to remain calm. Acting rashly can actually do more damage to your data. The situations can be addressed by the experts in ACE Group's Data Recovery Services unit, who are able to recover 100% of the data for 96% of customers. ACE Data Group's
data recovery
'rule of thumb' is: if you hear a clicking sound emitting from your hard drive, or if the computer's S.M.A.R.T. function indicates an error during the boot process, something is wrong. The safest bet is to call ACE Data Recovery Services for your expert data recovery needs (1-877-304-7189 or use our contact form
here
.
After receiving your failed hard drive, a ACE Data Recovery specialist's first step will be to try and save an image of the damaged drive onto another hard drive. This image drive, not the actual damaged hard drive, is where the data recovery specialist will try to recover the lost data.
The next step in the imaging process is to determine if the
hard drive failure
was an actual malfunction, a system corruption or a system track issue.
System corruption and system track issues are normally fixed by using ACE Data Group's proprietary data recovery software, which was developed by our research and development engineers. System corruption or system track recoveries do not require processing in a clean room environment.
Unfortunately, damage to a hard drive's circuit board or failure of the head drives is not uncommon. In each of these failures, a ACE Data Recovery specialist will work on the system in a clean room environment*, substituting parts such as drive electronics, internal components, read/write arms, writing/reading heads, spindle motors or spindle bearings from a donor drive in order to gain access to the data on the failed hard drive. In most cases, the data recovery specialist is able to retrieve and return your lost data.
It's really very simple. If your data disappears, don't panic. ACE Data Recovery Services can recover it for you, as we've done for thousands of satisfied customers since 1981. If we are not successful, then you pay nothing. What have you got to lose?
* ACE Data Recovery Services clean room protocols are set up according to "clean room class 100", meaning that the room contains a maximum of 100 dust particles per cubic meter of air.
The Japanese version of this article.