ACE Data Recovery Expands Enterprise Data Recovery Partnership with Dell - Press Release
ACE Data Recovery Expands Enterprise Data Recovery Partnership with Dell
Dallas, TX - November 05, 2015 - ACE Data Recovery, the leader in enterprise data recovery, today expanded its partnership with Dell. After years of being one of two companies that Dell Enterprise has referred its customers to for data recovery, ACE Data Recovery announces it has become an official Dell Data Recovery Partner. In this role, ACE will perform RAID data recovery services for all Dell storage products, including PowerEdge servers, PowerVault DAS, EqualLogic, EMC and Compellent SANs, and Storage NX NAS appliances for Dell Enterprise customers at a 15% discount.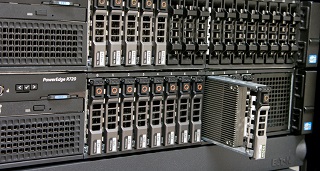 ACE Data Recovery is also an official partner in Dell's ProSupport Collaborative Support Program (CSP), which mostly provides support for individual consumers who have lost data on hard drives, SSDs, flash drives and tapes. CSP connects third-party experts to work in tandem with Dell's ProSupport organization to improve customer resolution time.
"With a partnership that started years ago on a complex but successful RAID and Microsoft SQL Server database recovery, we have often collaborated with Dell to get their customers' hardware back online while also preserving or restoring their data – sometimes seemingly conflicting interests," said ACE Data Recovery's CEO, Charles Walker. Walker explained that, to avoid accidental and irreversible overwrite of business-critical data, customers should know the exact sequence of their device failures and shouldn't try hasty procedures to try to restore their hardware. They should contact technical support and stress to them that their data is important.
"Even the best storage products like Dell's can fail when natural disaster or human error strikes," said Walker. To help Dell support its customers, ACE engineers visit Dell's Cell Centers quarterly to educate technical support associates on ACE's capabilities, the best practices for troubleshooting possible data loss cases, and how to recognize situations where they should call in recovery experts to preserve customer data. ACE often participates in troubleshooting calls with Dell and its customers.
The two companies' collaboration allows Dell to refer enterprise customers to ACE at the right time. A recent case for a Los Angeles-area newspaper involved a RAID 5 running in critical state due to an undetected drive failure, when a power outage forced a second one to fail. When two drives fail, a RAID 5 collapses and all data becomes inaccessible. Dell support recognized that data integrity might be threatened, so rather than forcing a rebuild of the customer's array, they sent all 5 drives to ACE. ACE engineers stabilized both failed drives, diagnosed one of them as outdated and then rebuilt the array in such a way that prevented data loss. ACE was able to recover all 157 gigabytes of data, including the newspaper's critical 12 Microsoft SQL databases.
ACE's high recovery rate is due in part to its proprietary tools. The EqualLogic Recovery Manager allows quick retrieval of critical data from all EqualLogic models and unified storage configurations. Additionally, the ACE Remote Recovery Manager (ARRM) allows engineers to log in remotely, diagnose the extent of corruption and then recover data from logically-damaged volumes at a client's site.
About ACE Data Recovery:
ACE Data Recovery, the leader in enterprise data recovery, provides services to businesses and individuals who experience data loss due to hard drive failures, software corruption, human error or natural disasters. Since 1981, the company has recovered data from all types of media including HDD, SSD, RAID, SAN, NAS, flash drives, and tapes. Headquartered in Dallas, TX, with additional labs in Falls Church, VA, Houston, TX, and Chicago, IL, the company also has service centers in 25 major metropolitan areas. For additional information visit https://www.datarecovery.net or call 877-304-7189. A dedicated number is also available to Spanish-speaking customers: 844-863-9573.