Western Digital Announces 18TB CMR and 20TB SMR HDDs
September, 2019
Western Digital Announces 18TB CMR and 20TB SMR HDDs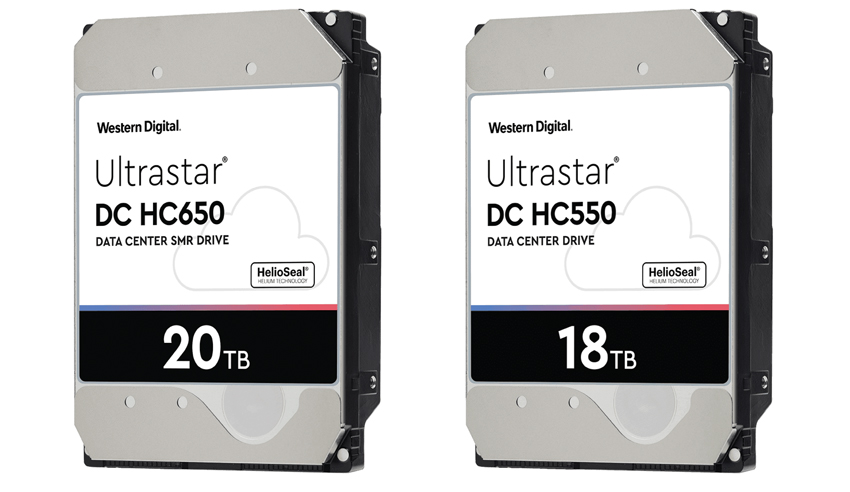 Western Digital announced two new high-capacity enterprise drives, the Ultrastar DC HC550 CMR HDD and the Ultrastar DC HC650 SMR HDD that use energy-assisted recording technology. Numerous reports claimed these drives are the first to feature WD's Microwave Assisted Magnetic Recording (MAMR) technology, but the company's spokesperson told they can not disclose specific details about which energy assist technologies are used in each drive.
Current PMR (perpendicular magnetic recording) technology is reaching an areal density limit as the bit areas become too small to sustain a stable magnetic polarity. MAMR uses a more stable recording medium which can sustain smaller bit areas. According to the company, as part of their MAMR development, they have discovered a variety of energy-assisted techniques that boost areal density.
Western Digital said the drives are part of its Capacity Enterprise HDDs portfolio with cost-optimized configurations for every important capacity point: six-disk 10TB Ultrastar DC HC330 air-based HDD; eight-disk 14TB Ultrastar DC HC530 helium-based HDD; nine-disk 18TB Ultrastar DC HC550 helium-based HDD; and a nine-disk 20TB Ultrastar DC HC650 helium-based HDD. The Ultrastar DC HC550 CMR HDD will be available in 16TB and 18TB capacities, and the Ultrastar DC HC650 SMR HDD will be available in a 20TB capacity, sometime in the first half of 2020. (Western Digital is sampling the drives now.)
The company's 18TB CMR Ultrastar DC HC550 and 20TB Ultrastar DC HC650 SMR hard disk drives are designed to give hyperscale data centers more density and total cost of ownership to handle exabytes. They will help businesses improve efficiency and deliver long-term value to their customers but, unfortunately, like all storage media that can fall victim to logical and physical failures that can result in data loss and downtime for businesses.
To get their irreplaceable data back, businesses will need to contact a professional data recovery services provider like ACE Data Recovery with has an extensive experience in recovering data from hard drives of all makes and models, including high-capacity HDDs manufactured by Western Digital. ACE Data Recovery team can recover data from storage devices considered "unrecoverable" by other company's and has one of the highest success rates in the industry. ACE Data Recovery engineers are ready to help companies that own new Western Digital high-capacity enterprise HDDs with their data recovery needs.