Western Digital Announces 2 New 96-Layer 3D Flash SSDs
August, 2019
Western Digital Announces 2 New 96-Layer 3D Flash SSDs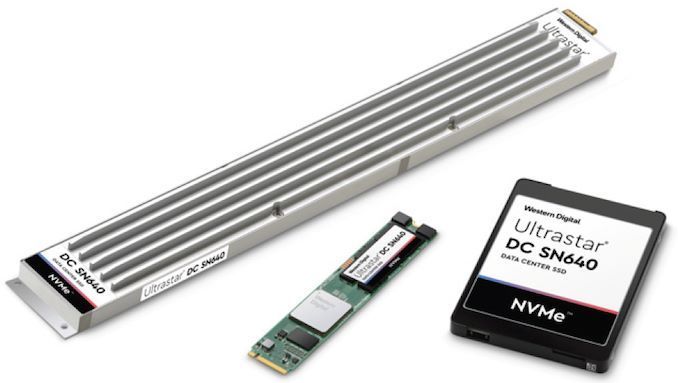 Western Digital announced two new 96-layer 3D flash NVMe SSD families, the Ultrastar DC SN640 and Ultrastar DC SN340. Both are purpose-built for either mixed-use-case workloads or very read-intensive applications, respectively. The new Ultrastar drives help meet the evolving, and increasingly specific workload demands placed on data centers today. The new SSDs leverage Western Digital's in-house SSD controller designs, firmware development, and vertical integration.
New SSDs leverage the power of NVMe, enabling design flexibility with future-ready form factors: the Ultrastar DC SN640 for mixed-use-case applications comes in a U.2 7mm, M.2, and up to 30.72TB on EDSFF E1.L; the Ultrastar DC SN340 for very read-intensive applications comes in a U.2 7mm with up to 7.68TB.
The Ultrastar DC SN640 family is optimized for extreme performance for mixed-workload applications such as SQL Server, MySQL, virtual desktops, and other business-critical workloads using hyperconverged infrastructures (HCI) such as VMware vSAN and Microsoft Azure Stack HCI solutions. According to Western Digital, it delivers 2x the performance in sequential writes compared to its predecessor. Qualification samples are now available to select customers.
The Ultrastar DC SN340 Gen3 x4 PCIe SSD is optimized for power efficiency and low heat signature with less than 7W at full performance. It is ideal for very read-intensive workloads such as warm storage and other applications that write in large block sizes. These include content delivery networks (CDN) and video caching, where data is written in large sequential blocks and which benefit significantly from the high-bandwidth of Gen3 x4 and low read latency of NVMe. Distributed NoSQL databases like Apache Cassandra and MongoDB can also take advantage of the large-block write characteristics of the drive. The Ultrastar DC SN340 comes in capacities of up to 7.68TB. The company says the drive will be sampling to select customers this quarter.
Serving a vital role in empowering new data center workloads – from video and machine-to-machine (M2M) to IoT and analytics – the new Ultrastar NVMe SSDs can help data center architects design more efficient, purpose-built storage tiers now and into the future. But unfortunately, they may fall victim to logical and physical failures that may result in data loss and downtime for businesses. To get their irreplaceable data back the owners of the new the Western Digital Ultrastar DC SN640 and the Ultrastar DC SN340 SSDs will need to contact a professional data recovery services provider. ACE Data Recovery team has extensive experience in recovering data from all types of storage media, including NVMe SSDs and will gladly help businesses with their data recovery needs.