Western Digital announces release of its first portable SSD
April, 2017
Western Digital announces release of its first portable SSD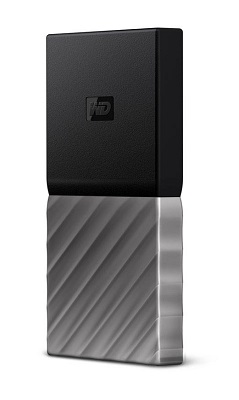 Western Digital, a leading provider of storage solutions, is known for its hard drives. Throughout 2016 the company was expanding into the SSD market and has recently announced its first portable SSD that combines high speed with plenty of storage.
Western Digital, one of the largest computer hard drive manufacturers in the world, is particularly known for its inexpensive and portable My Passport line of external hard drives but the company has never released a portable solid-state drive before. The new portable SSD will be part of My Passport product line.
Last year Western Digital purchased SanDisk with a purpose of expanding its business into solid state storage and already released internal SSDs. My Passport SSD especially makes sense in the highly competitive market because Seagate and LaCie already offer external solid-state drives. The new My Passport SSD is the fastest current My Passport model and can transfer data up to 515 MB/s. The drive comes with a USB Type-C port.
The My Passport SSD is available for purchase in three sizes: 1 TB for $399.99, 512 GB for $199.99, and 256 GB for $99.99. But no matter how good the new My Passport SSD is, someday it may fall a victim of data inaccessibility just like other portable solid-state drives. To get vital files back from a failed portable SSD storage, My Passport SSD owners will need to call on professional data recovery services.
ACE Data Recovery team is the best choice when it comes to retrieving data from a faulty SSD. The reason is that the company's experts are experienced enough to deal with severely damaged storage units. The company has state-of-the-art equipment to perform the most complex data recovery operations. Besides, in case of need, ACE Data Recovery engineers can develop case-specific solutions to piece sensitive information together and recover it from a data storage device in one piece.