Western Digital launches new My Passport Ultra HDDs: new enclosure, up to 4 TB
July, 2017
Western Digital announces release of its first portable SSD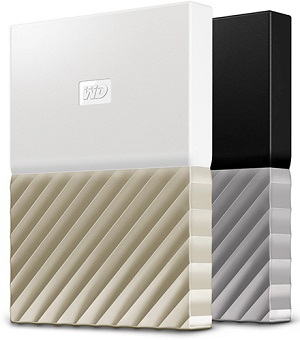 Western Digital Corporation expanded its line of WD brand My Passport portable drives with the redesigned My Passport Ultra drive that offers WD Discovery software to help consumers easily back up photos, videos and important documents shared and created across multiple social networks, cloud services, and devices. The new HDDs continue to offer up to 4 TB of storage space and utilize a USB 3.0 interface.

The new WD My Passport Ultra external HDDs come in a new metallic enclosure. The 1 TB drive uses a thinner enclosure that measures 13.5 mm (0.53"), whereas the models with 2 TB, 3 TB and 4 TB capacities are 21.5 mm (0.85") thick.

The new HDDs feature automatic WD Backup software for local data and content, as well as the company's new WD Discovery software that backs up users' data from Facebook, Instagram, Dropbox and Google Drive.
By using both software suites, users can consolidate their data from different sources on a single device. Users can schedule automatic backups directly from a computer to the drive, download all of their content, including tagged photos and videos from Facebook, with a few simple steps, and keep a local copy of files they've stored on their favorite public cloud services. Meanwhile, to protect the data, Western Digital offers its WD Backup software that relies on AES-256 hardware encryption. Users can activate hardware encryption and data protection with a personalized password.
The My Passport Ultra drives are the perfect storage solution for computer users who want to consolidate and preserve all aspects of their digital lives. The new HDDs offer great opportunities for storing large amounts of important data but, unfortunately, sooner or later, all storage media will eventually break, and WD My Passport Ultra drives are no exception. To get irreplaceable files back, their owners will have to rely on a professional data recovery service provider.
ACE Data Recovery has technology and experience to handle the most extreme situations of data loss. ACEs provide successful hard drive recovery on a full range of hard disk drives of all sizes, makes, and models. The company's engineers can retrieve any data even from storage devices that other data recovery companies consider 'unrecoverable'. ACE Data Recovery experts will recover your valuable data in a fast, reliable, and cost-effective manner.