Western Digital Introduced the Ultrastar DC HC530 14TB HDD
May, 2018
Western Digital Introduced the Ultrastar DC HC530 14TB HDD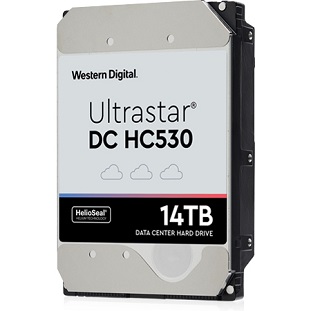 Western Digital Corporation (WDC) introduced its highest capacity conventional magnetic recording (CMR) HDD with the Ultrastar DC HC530. Built on Western Digital's fifth-generation HelioSeal technology, the Ultrastar DC HC530 hard drive is designed for public and private cloud environments. Because of extremely high areal density, the new HDDs offer up to 267 MB/s sustained transfer rate, slightly higher when compared to previous-gen drives.
This new CMR drive features two Dimensional Magnetic Recording (TDMR) technology and its improved Dual Stage Micro Actuator provides optimal head positioning and rotational vibration robustness. To protect the end user data, the manufacturer offers Ultrastar DC HC530 HDDs with hardware self-encryption capability, instant secure erase feature, TCG encryption, and TCG FIPS encryption to various parties.
The new datacenter-grade Ultrastar DC HC530 HDDs are rated for a 550 TB/annual workload, a 2.5 million hours MTBF, and are covered by a five-year limited warranty. The Ultrastar DC HC530 will be available only in 14 TB capacity with 4Kn and 512e sectors and will feature a 7200 RPM spindle speed, a 512 MB buffer, and a SATA or SAS interface.
The Ultrastar DC HC530 14TB HDD is currently shipping to select hyperscale cloud customers for qualification. Volume shipments of the drives will start in the second half of the year.
The new Western Digital Ultrastar DC HC530 14TB HDDs will allow cloud service providers and organizations, leveraging big data analytics and machine learning, to efficiently build massive petabyte-scale infrastructures but like any storage media, they are vulnerable to physical and logical failures that may result in data loss. In these cases, businesses will need to contact a reliable data recovery services provider like ACE Data Recovery that has high-tech recovery facilities and sufficient experience in recovering data from a full range of hard disk drives.
ACE Data Recovery has been in business for more than 35 years and has helped thousands of businesses and individual users recover their data. ACEs will welcome the opportunity to help new customers with their data recovery needs.