Western Digital Unveils New 15TB Hard Drive
December, 2018
Western Digital Unveils New 15TB Hard Drive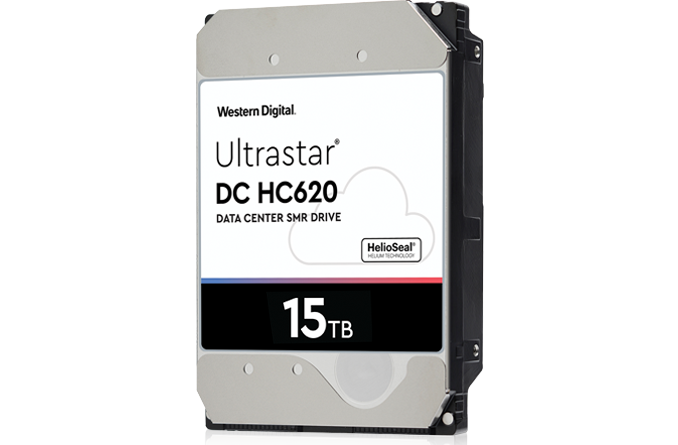 Western Digital announced the launch of its latest Ultrastar DC HC620 host-managed SMR HDD which boasts of a 15TB storage capacity and is said to be the largest capacity mechanical drive on the market. The new Western Digital Ultrastar DC HC620 HDD is based on HelioSeal technology, which uses helium to increase the number of physical platters sealed within a drive. As it is less dense, helium allows platters to be stacked closer together and reduces friction and strain when the platters spin. As a result, more drive platters can be stacked on top of each other, and the platters should last longer while using less energy. The DC HC620 HDDs use eight SMR platters with a 1.75 TB and a 1.875 TB capacity featuring a 1034 and a 1108 Gbit areal density per square inch respectively.
The hard drive features a rotational speed of 7,200RPM and an average latency of 4.16ms. The manufacturer will offer the new series of HDDs with a SATA 6 Gbps or with SAS 12 Gbps interface. According to Western Digital, the new drive boasts a sustained transfer rate of up to 255MB/s which is the world record for any SMR HDD. Like other enterprise-class HDDs, the Ultrastar DC HC620 HDDs are rated for 2.5 million hours MTBF.
The drive is designed for cloud storage and data center services. According to Western Digital, the drives will be able to meet the needs of large video surveillance 'smart city' initiatives, storage for regulatory compliance and Big Data storage. But unfortunately, like any other hard drives, the new Ultrastar DC HC620 HDDs are vulnerable to physical and logical failures that may lead to critical files inaccessibility.
Sudden media issues can mean serious downtime and lost work for businesses. To get their data back from failed Western Digital Ultrastar DC HC620 HDDs, businesses will need to contact a reliable data recovery services provider like ACE Data Recovery team. The company has high-tech recovery facilities and large experience in recovering data from a full range of hard disk drives. ACEs can boast of the highest recovery rate in the industry and will welcome the opportunity to help new customers with their data recovery needs.