Western Digital Announces the New Budget-Friendly Blue SN500 NVMe SSD
May, 2019
Western Digital Announces the New Budget-Friendly Blue SN500 NVMe SSD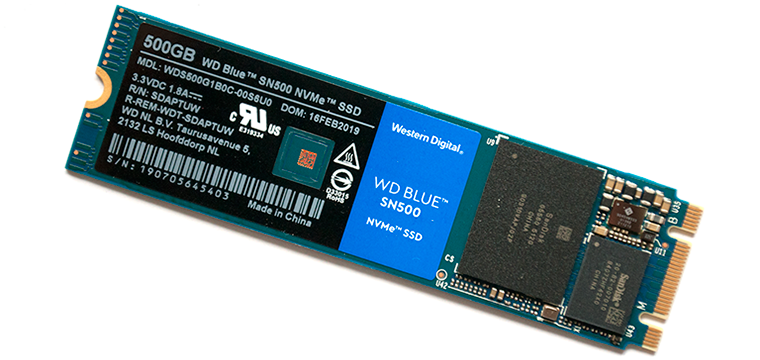 Although prices on SSDs have been coming down, they are still usually considerably more expensive than their hard drive counterparts. Therefore, Western Digital releases the more budget-friendly WD Blue SN500 NVMe SSD to bridge the gap. The company claims that their new Blue SN500 NVMe SSD delivers three times the performance of its SATA counterpart while maintaining the reliability the WD Blue product line is known for. The new SSD is also optimized for multitasking, resource-heavy applications, providing near-instant access to files and programs. The WD Blue SN500 NVMe SSD will be available in 250GB and 500GB capacities in a single-sided M.2 2280 PCIe Gen3 x2 form factor.
Leveraging the scalable in-house SSD architecture of the highly acclaimed WD Black SN750 NVMe SSD, the new WD Blue SN500 NVMe SSD is also built on Western Digital's own 3D NAND technology, firmware and controller, and delivers sequential read and write speeds up to 1,700MB/s and 1,450MB/s respectively (for 500GB model) with efficient power consumption as low as 2.7W. Since demands on storage are continuing to grow and client workloads are evolving, the WD Blue SN500 NVMe SSD features high sustained write performance over SATA as well as other emerging technologies on the market today to give that performance edge, says Western Digital.
The new SN500 NVMe SSD can be a good option for content creator, video and photo editors, heavy data users, and PC enthusiasts who are looking for high-speed internal storage that won't break the bank. According to the company, the WD Blue SN500 NVMe SSD will enable customers to build high-performance laptops and PCs with fast speeds and enough capacity in a reliable, rugged and slim form factor.
But no matter how good they are, the new WD Blue SN500 NVMe SSDs can fall victim to logical and physical failures. To get their valuable photos, videos, and other documents back, the owners of the new Blue SN500 NVMe SSDs will need to contact a reliable professional data recovery services provider. ACE Data Recovery has been offering premium data recovery services for more than 35 years and the company's engineers has a vast experience in recovering data from all types of storage media, including failed NVMe SSDs. ACEs can boast of the highest success rate in the industry and will gladly help the WD Blue SN500 NVMe SSD owners with their data recovery needs.