Western Digital SN770 Black mid-tier NVMe SSD
March, 2022
Western Digital SN770 Black mid-tier NVMe SSD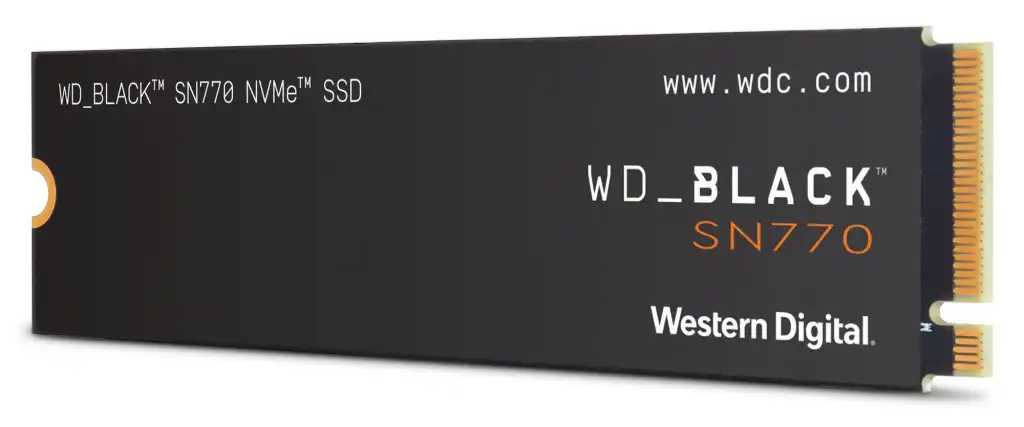 The Western Digital new Black SN770 is a fast and affordable PCIe 4.0 NVMe SSD that competes nicely with similar mid-tier products. It's also further proof that DRAM-less SSD design can be very effective in systems that support it. DRAM-less design means that the SN770 SSD uses host buffer memory (HBM), i.e. your computer's memory as primary cache thus accelerating performance. According to the company, the controller is a proprietary WD/Sandisk design and the NAND is 112-layer TLC, which is a huge upgrade over the last generation.
WD says that the SN770 delivers up to 40% faster performance and up to 20% more power efficiency over its previous-gen SSD (1TB Black SN750 SE), thanks in part to the new DRAM-less four-channel SSD controller and TLC flash. The Black SN770 SSD is rated for sequential speeds up to 5.15/4.9 GB/s read/write and up to 740,000/800,000 random read/write IOPS.
Western Digital says the SN770 SSD supports advanced power management to remain cool and efficient during use. Also, if the SSD is used in a high-temperature environment, it comes with thermal throttling support that prioritizes data integrity over speed. The WD Black SN770 SSD also supports Trim, SMART data reporting, and secure erase capability via the Format NVM command. But it does not support AES 256-bit hardware encryption.
The WD Black SN770 NVMe SSD comes in an M.2 2280 single-sided form factor and is available in 250GB, 500GB, 1TB, and 2TB versions. The SSDs are warrantied for 5-years or 200TBW, 300TBW, 600TBW, and 1200TBW respectively. These DRAM-less client SSDs are meant for most general use cases, including gaming, demanding software, and speedy OS boot-ups. They are an inexpensive option for gamers looking to upgrade their system with the new Gen4 specification as well as professionals who demand consistent performance in their workflows.
`
But unfortunately, the WD Black SN770 SSDs may also fail logically and physically, making critical user files inaccessible. Then their owners will need to contact a professional data recovery services provider to get their data back. ACE Data Recovery engineers can successfully recover data from all types of HDD, SSD and will gladly help the WD Black SN770 SSD owners with their data recovery needs.