Western Digital Launches WD Black SN750 NVMe SSD
February, 2019
Western Digital Launches WD Black SN750 NVMe SSD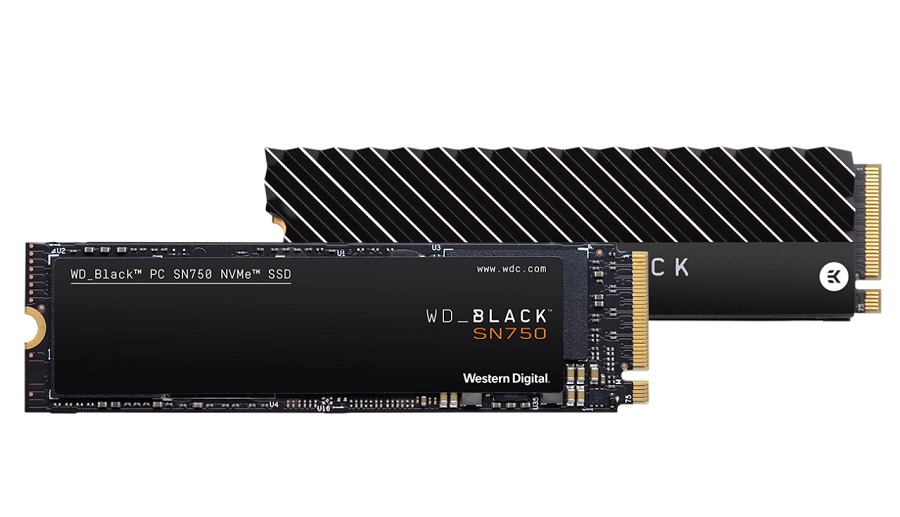 Western Digital unveiled its latest NVMe drive. The "WD Black SN750," as it is called, features several capacities and price points, making it achievable for most consumers – even those on a budget. According to Western Digital, the WD Black SN750 NVMe SSD rivals some of the most performing drives on the market and gives gamers a competitive edge. Western Digital is pricing its fastest drive to be aggressively affordable and at an even lower cost than its previous Black NVMe SSD. With a single-sided M.2 2280 form factor, the WD Black SN750 NVMe SSD comes in capacities from 250GB up to 2TB. The company showed at PAX South, San Antonio, a version of its NVMe SSD for desktop systems which has an integrated heatsink that helps maintain speed and temperature.
It's the second-generation NVMe SSD to be built on Western Digital's own 3D NAND technology, firmware and controller. The WD Black SN750 NVMe SSD features a vertically integrated SSD platform designed to increase NVMe SSD performance for gaming and hardware enthusiasts looking to build or upgrade their gaming PC or a custom PC. The new SSD delivers sequential read (up to 3,470 MB/s for 500GB and 1TB model) and write performance (up to 3,000MB/s for 1TB model). According to the company, the new drive reduces the time required for users to access their programs and files, load games and transfer large games, 4K/8K videos and other data-intensive content. Additionally, the SSD features up to 515,000 random-read and 560,000 random-write IOPs (for 1TB model) for extreme throughput, allowing the SSD to manage multi-threaded applications and data-intensive environments.
The new SSD has complementary features which improve system responsiveness, such as Gaming Mode in the WD BLACK SSD Dashboard, and the Western Digital heatsink model keeps things cool and delivers consistent sustained performance.
The WD Black SN750 NVMe SSDs will deliver high performance for gaming and hardware enthusiasts who are looking to build or upgrade their PC but unfortunately, they may eventually break like all electronics, leaving their irreplaceable files inaccessible. Then, their owners will need to contact a reliable data recovery services provider like ACE Data Recovery team that has extensive experience in recovering data from all types of storage media and always delivers the best result to consumers. ACEs will be glad to help the proud WD Black SN750 NVMe SSD owners with their data recovery needs.