Western Digital introduces its WD Black NVMe SSD
April, 2018
Western Digital announces release of its first portable SSD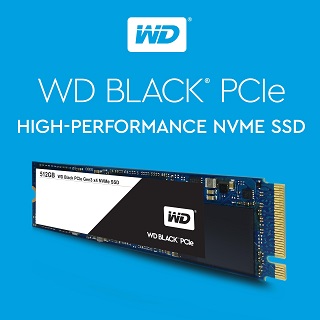 Western Digital is challenging Samsung and other NVMe SSD manufacturers with a new line of performance drives at comparatively attractive price points.

Western Digital has introduced the new WD Black 3D NVMe SSD that is designed for high performance, low power consumption, and extended durability for PC gaming systems and features the company's own SSD architecture and controller which optimally integrates with Western Digital 3D NAND.

According to Western Digital, the new vertically integrated SSD platform was engineered from the ground up, specifically architected to help maximize performance for NVMe SSDs, with advanced power management, durability, and endurance for the growing range of applications benefiting from NVMe technology.
These miniature drives are going to be available in several storage capacities and are designed to fit in both portable and high-end desktop computers. The latest NVMe SSD family will be available to buy in the 250GB, 500GB and 1TB storage versions. The drive features sequential read (up to 3,400Mbps for 1TB and 500GB model) and writes performance (up to 2,800Mbps for 1TB model). Additionally, the drives feature up to 500,000 random-read IOPs (for 1TB model) to deliver extreme throughput. The new SSDs offer a five-year limited warranty with up to 600TBW endurance (for 1TB model). The Western Digital Black 3D NVMe SSDs are available in the US and will be available by late April 2018 globally.
The new Western Digital Black 3D NVMe SSDs will enable users to quickly, access, engage and capture today's high-resolution video, audio, and gaming content but, unfortunately, like all electronics, they may eventually fail and their owners may lose access to their valuable files.
To get their vital files back, the WD Black 3D NVMe SSDs' owners will need to contact a reliable data recovery service provider. Recovering data from SSDs that use 3D NAND flash memory is not an easy task because due to the proprietary nature of controller chip manufacturing and programming, every SSD recovery situation is unique. ACE Data Recovery team has the necessary experience and state-of-the-art tools to solve complex issues. ACE Data Recovery engineers can develop custom solutions for unusual cases and are ready to help you recover your irreplaceable data from any type of the storage device.