Viking ships enormous 50TB 3.5-inch solid-state drive for enterprise customers
July, 2017
Viking ships enormous 50TB 3.5-inch solid-state drive for enterprise customers
Viking Technology has started shipping their new lineup of ultra-high capacity (UHC) SSDs designed to replace 3.5" HDDs in capacity-demanding applications that can take advantage of flash memory. The Viking UHC-Silo drives use planar eMLC NAND memory in custom packaging with raw NAND capacities of 25 TB and 50 TB, and consequently are currently the highest capacity SSDs available on the market.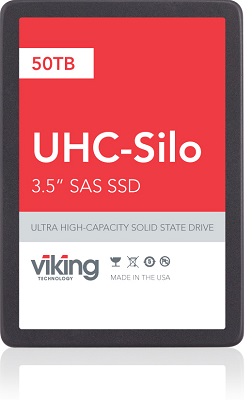 The UHC-Silo SSD offers idle power consumption under 10 watts, active power usage of 16W, and cost savings in power, space, and cooling of up to 80% per terabyte. The drive has sustained read speeds of 500MB/s and sustained write speeds of 350MB/s.
The Viking UHC-Silo SSDs come in a 3.5" form-factor (a rarity for any kind of SSD) and utilize a SAS 6 Gbps interface, two features that make the drives particularly well-suited for replacing high capacity HDDs. The drives are designed for mixed workloads that do not generate more than 1 DWPD and do not require very high performance.
Viking Technology's UHC-Silo SSD series, powered by a next generation flash processor, balances performance, capacity, cost, and energy efficiency, and are ideal for applications such as cloud computing, big data, external storage systems, digital imaging and media, technical applications and cold storage.
Viking's UHC-Silo SSDs were designed to replace hard drives for huge databases or even "cold" storage and meet the growing demand for high-capacity flash storage devices. Businesses are moving towards SSD technology, but, unfortunately, SSDs are also vulnerable to data loss because of logical or physical failures like any other storage devices.
Yet data recovery from SSDs that use NAND flash memory can be very challenging for many US companies that provide data recovery services because the architecture inside a high- performance SSD is very complicated. Different manufacturers use their own algorithms that map logical addresses to physical media locations and the details are top commercial secrets. That's why every SSD recovery case is unique and data recovery procedures from failed SSDs require advanced technologies and highly specific software and hardware tools.
ACE Data Recovery is the market leader in data recovery technologies and has state-of-the-art facilities and innovative proprietary methods, so ACEs are excited to take the challenge of retrieving data from such high-capacity SSDs and are looking forward to it. ACE Data Recovery team developed an advanced SSD drive recovery process of rebuilding multiple sets of NAND flash dumps, unscrambling the code and then taking the numerous unscrambled sets and assembling them into one single drive image. ACEs feel confident that they will be able to recover data from the Vikings UHC-Silo SSDs.