The new Transcend UTE210T SSD is specifically designed for generative AI, high-performance computing (HPC), and big data analytics
July, 2023
The new Transcend UTE210T SSD is specifically designed for generative AI, high-performance computing (HPC), and big data analytics
Transcend Information (Transcend®) has once again demonstrated its commitment to innovation with the release of its latest U.2 NVMe SSD, the UTE210T. This cutting-edge solid-state drive is specifically designed to meet the demanding requirements of generative AI, high-performance computing (HPC), and big data analytics. With its impressive specifications and advanced features, the UTE210T is set to revolutionize data storage and processing in various industries.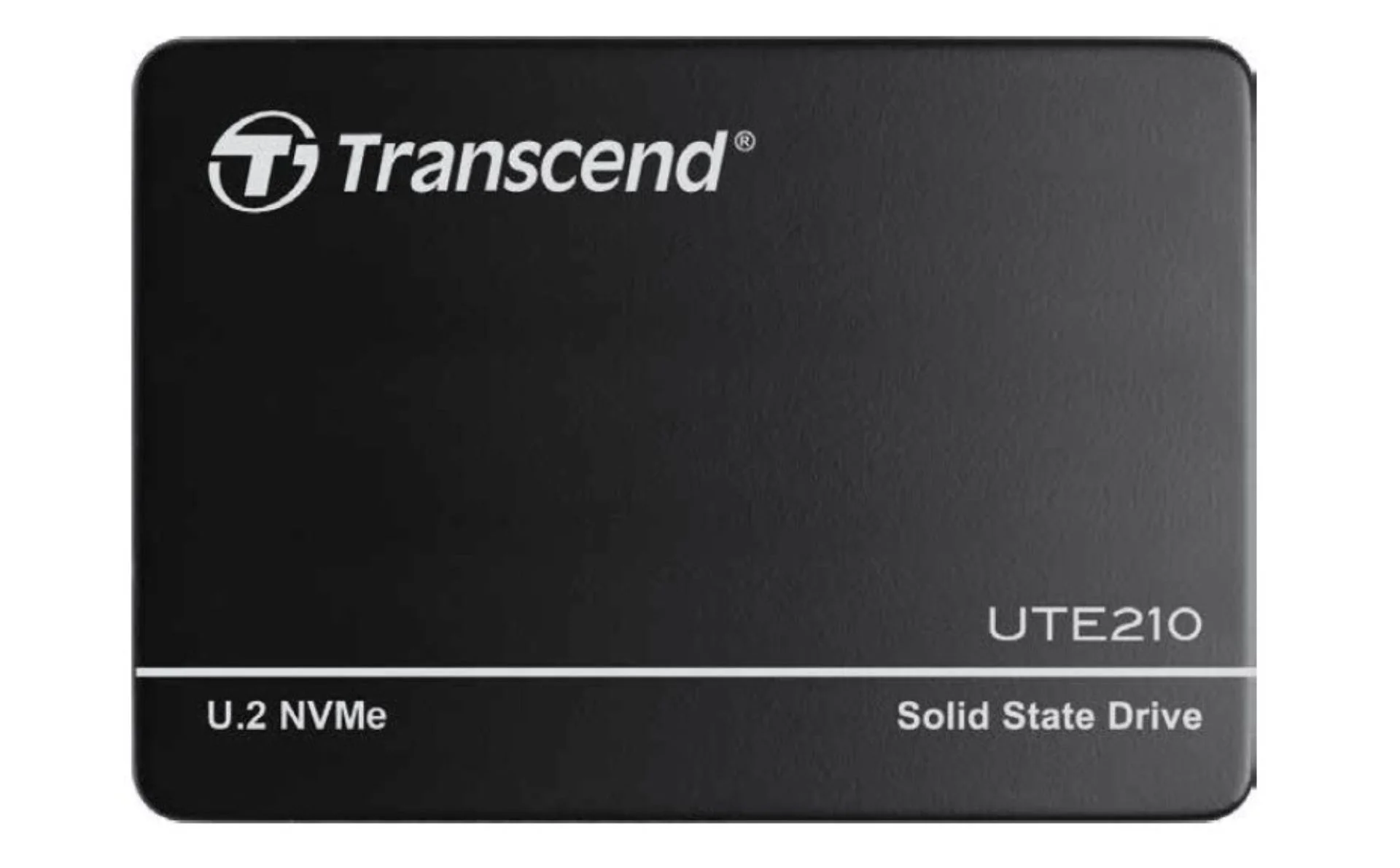 Transcend UTE210T NVMe SSD: Revolutionizing Data Storage and Processing
The UTE210T is equipped with the latest 112-layer 3D NAND flash, which ensures high storage density and improved performance. Combined with an 8-channel controller and a PCIe Gen 4x4 interface, this SSD delivers exceptional speeds and low latency, enabling users to process and analyze data quickly and efficiently. With sequential read and write speeds of up to 7,200/6,500 MB/s, the UTE210T ensures fast data transfers and supports a wide range of applications, from AI model training to complex simulations.
UTE210T SSD High Performance and Compatibility
One of the standout features of the Transcend UTE210T SSD is its compliance with the NVMe 1.4 specification. This ensures compatibility and optimal performance with modern systems. The drive also comes bundled with a U.2 connector, allowing seamless integration with U.2 backplanes. This configuration enhances transfer stability and reliability, making the UTE210T an ideal choice for servers and data centers that require consistent and uninterrupted data processing.
To address the unique challenges posed by AI workloads, Transcend has incorporated built-in DRAM in the UTE210T. This enables exceptional random read speeds, reducing the number of Program/Erase cycles and extending the lifespan of the drive. With storage capacities of up to 8TB, the UTE210T offers ample space for storing and managing vast amounts of data, making it an ideal solution for AI-driven applications and big data analytics.
UTE210T Data Integrity and Reliability
Data integrity is of paramount importance, especially in critical applications. To address this concern, Transcend has equipped the UTE210T with Power Loss Protection (PLP) functionality. In the event of an unexpected power loss or failure, the PLP feature ensures that critical data remains safe and secure, minimizing the risk of SSD data corruption. This provides peace of mind to users who rely on uninterrupted operation and data consistency.
Another notable feature of the UTE210T is its extended temperature technology, which allows the SSD to operate reliably in extreme temperature conditions. With a temperature range of -20°C to 75°C, the UTE210T can withstand harsh environments with frequent thermal cycling. This makes it suitable for a wide range of applications, including industrial and automotive systems that are exposed to challenging operating conditions.
Transcend Scope Pro Monitoring Software
Transcend goes the extra mile by providing the exclusive Scope Pro monitoring software with the UTE210T. This software offers comprehensive features for smart remote management, including S.M.A.R.T. analysis, early warning notifications, Over-the-air (OTA) firmware updates, system cloning, and more. With Scope Pro, users can monitor and maintain the SSD's performance and health, maximizing its lifespan and ensuring optimal functionality over time.
As a leading brand in embedded memory and storage products, Transcend continues to push the boundaries of memory technology. With a strong research and development team, global technical support, and a manufacturing base in Taiwan, Transcend is well-positioned to provide competitive storage solutions to meet the evolving needs of the global market. The release of the UTE210T reaffirms Transcend's commitment to innovation and solidifies its position as a key player in the storage industry.
With its built-in DRAM and extended temperature technology, the UTE210T SSD is designed to handle demanding workloads and operate reliably in challenging environments. The Power Loss Protection feature safeguards critical data, while the Scope Pro monitoring software offers advanced remote management capabilities, allowing users to optimize the SSD's performance and maximize its lifespan.
Transcend's Ample Storage Capacity
Transcend's commitment to innovation and its global presence in the memory and storage industry make it a trusted brand. With its strong research and development team, experienced technical support, and manufacturing base in Taiwan, Transcend continues to lead the way in memory technology.
The release of the UTE210T solidifies Transcend's position as a frontrunner in the storage market, offering cutting-edge solutions that cater to the evolving needs of industries relying on AI, HPC, and big data analytics. By providing high-speed, reliable, and efficient storage solutions, Transcend empowers organizations to unlock the full potential of their data-driven applications and achieve greater success in their respective fields.
Transcend's UTE210T U.2 NVMe SSD offers an impressive array of features and specifications that cater to the demands of generative AI, high-performance computing, and big data analytics.Its high-speed performance, low latency, and minimal power consumption make it an excellent choice for organizations and data centers that require fast and efficient data processing. The UTE210T's compliance with the NVMe 1.4 specification and its U.2 connector ensure compatibility and stability, providing a seamless integration experience.
Professional Data Recovery Services for Transcend SSDs
When it comes to data storage, Transcend SSDs are known for their reliability and performance. However, data loss can occur due to various reasons such as accidental deletion, hardware failure, or software corruption. In such unfortunate situations, ACE Data Group offers professional data recovery services to help you retrieve your valuable information.
Specialized Technology for SSD Recovery
ACE Data Recovery services have technology designed specifically for SSD products, including the UTE210T. Their team of skilled technicians utilizes advanced techniques and specialized tools to recover data from damaged or inaccessible SSDs. Whether it's a critical business document, personal photos, or important project files, ACE understands the significance of your data and works diligently to recover it.
High Success Rate and Data Security
With their expertise and state-of-the-art facilities, ACE Data Recovery ensures a high success rate in data recovery. They follow strict protocols to maintain data privacy and confidentiality throughout the recovery process. Their experienced technicians assess the extent of data loss and employ appropriate methods to retrieve your files while ensuring the integrity and security of your information.
Prompt and Efficient Service
ACE Data Recovery services are prompt and efficient, aiming to minimize downtime and provide you with a fast turnaround. They prioritize customer satisfaction and strive to deliver reliable solutions for data loss scenarios. Whether you are an individual or a business, ACE Data Recovery services offer peace of mind, knowing that your valuable data can be restored by professionals with extensive experience in SSD technology.
In case of data loss from your Transcend SSD, reach out to ACE Data Recovery customer support to learn more about our HDD data recovery services and initiate the recovery process. Remember, it is crucial to stop using the SSD immediately after data loss to prevent further damage and increase the chances of successful data recovery.