Transcend Launches the M.2 SSD 430S and 830S Solid State Drives
May, 2019
Transcend Launches the M.2 SSD 430S and 830S Solid State Drives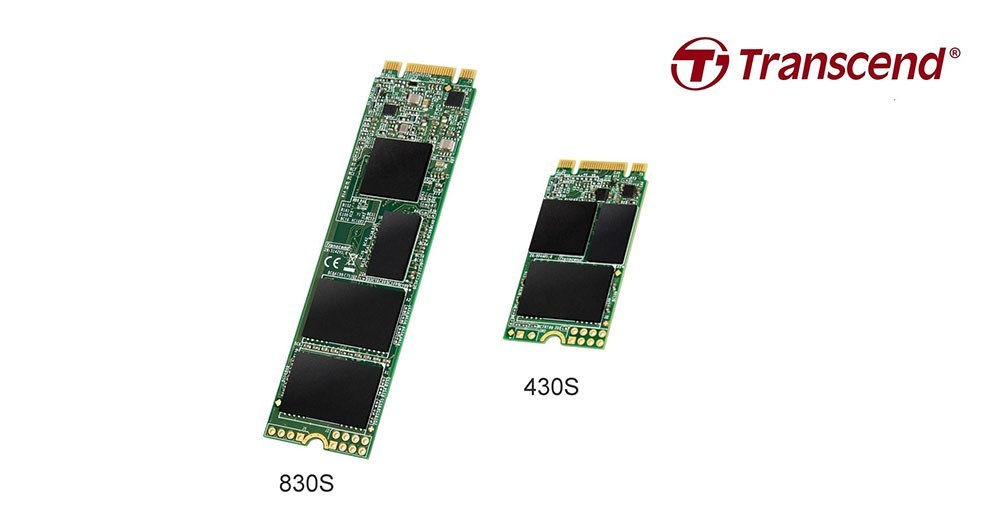 Transcend Information Inc. has recently announced the launch of two new SSDs. With its ultra-compact size and the next generation SATA III 6Gb/s interface and DDR3 DRAM cache, the M.2 SSD 430S and 830S are best suited to deliver high performance and reliability to meet the needs of today's advanced portable devices.
The M.2 SSD 430S comes with space-saving 42mm M.2 form factor for ultra-thin computing devices. By utilizing the next-generation SATA III 6Gb/s interface, Transcend's 430S is capable of delivering sequential read/write performance of up to 560MB/s and 500MB/s respectively. Featuring a sleek dimension and adopting the DDR3 DRAM cache, the 430S is well-suited to address the needs and size limitations of small computing devices.
Engineered for tablets and laptops, the M.2 SSD 830S boasts a compact dimension of 80mm. With high transfer speeds of up to 560MB/s read and 520MB/s write and high capacities of up to 1TB, the M.2 SSD 830S can easily handle everyday computing tasks as well as demanding multimedia applications. It features the latest SATA III 6Gb/s specification, DDR3 DRAM cache, and is comprised of high-quality 3D NAND Flash chips.
Both SSDs use advanced technologies for performance and protection, including:
SLC caching to enhance write performance and product longevity;
A RAID engine to increase stability and protect data; low-density parity check (LDPC) code to automatically correct errors;
Error Correction Code (ECC) that helps detect and correct potential transfer errors;
Device Sleep mode to reduce power consumption and shorten the response time upon wake-up from Sleep or Hibernate;
The S.M.A.R.T. function to efficiently monitor SSD health conditions.
The Transcend's M. 2 SSD 430S SSD is available in 128GB, 256GB and 512GB capacities while the M.2 SSD 830S is available in 128GB, 256GB, 512GB, and 1TB capacities.
Both new Transcend SSDs have many useful features to meet the growing demands of modern computer users. But no matter how good they are, the new Transcend 430S and 830S SSDs are vulnerable to logical and physical failures that can make critical user's files inaccessible. ACE Data Recovery has a vast experience in recovering data from all types of storage media, including failed SSDs and can boast of the highest success rate in the industry. ACE Data Recovery team will be glad to help the Transcend 430S and 830S SSD owners with their data recovery needs.