Transcend produces four new SSD lines
May, 2017
Transcend produces four new SSD lines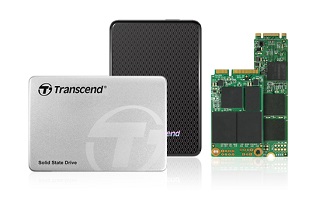 Transcend is a Taiwanese company that produces and markets a wide range of storage products. The company has announced four new client SSD product lines that are all built around 3D NAND flash memory. The new MTS810 and MTS420 lines are based on M.2-2280 and M.2-2242 form-factors respectively and take advantage of SATA 6 Gb/s interface. The MTS 810 is based on a newer TLC NAND flash memory and a compact SSD controller made by Silicon Motion. The drive can produce up to 560 MB/s of sequential transfer rates. The MTS810 is a single side 80 mm long SSD and the MTS420 is a doubled sided 42 mm long solid-state drive. Both drives will be available in 128 GB capacities.
Transcend is also going to produce the MTE850 series SSD that is an M.2-2280 PCIe SSD and is compatible with NVMe 1.2 protocol. It is based on 3D MLC NAND flash memory and will be available in 128 GB, 256 GB, and 512 GB capacities. The drive offers sequential transfer rates of up to 2,500 MB/s read, and up to 1,100 MB/s write so it is a great choice for gaming enthusiasts.
The SSD230 series is based on 7 mm-thick 2.5-inch form factor and comes in capacities of 128 GB, 256 GB, and 512 GB. The drive will offer read speeds of up to 560 MB/s, with up to 520 MB/s writes.
Solid-state storage units that use NAND flash memory are very popular these days because they have increased storage capacity, but someday they may fall victims of logical or physical failures. To get vital files back, the Transcend SSDs' owners will need to contact a professional data recovery services provider.
Data recovery operations from failed SSDs may be very challenging for many US data recovery companies because they require cutting-edge technologies and highly specific software and hardware tools.
ACE Data Recovery company makes the best choice when it comes to retrieving data from failed SSDs because the company's experts are equipped and experienced enough to deal with any defective storage units. Besides, ACE Data Recovery engineers are the best in the industry and know more about SSD data recovery than anybody else. ACEs can develop custom solutions for the unusual cases and retrieve data from faulty storage devices that other companies consider 'unrecoverable'.