Transcend unveils MTE250S NVMe 1.4 PCIe 4.0 SSD
November, 2022
Transcend unveils MTE250S NVMe 1.4 PCIe 4.0 SSD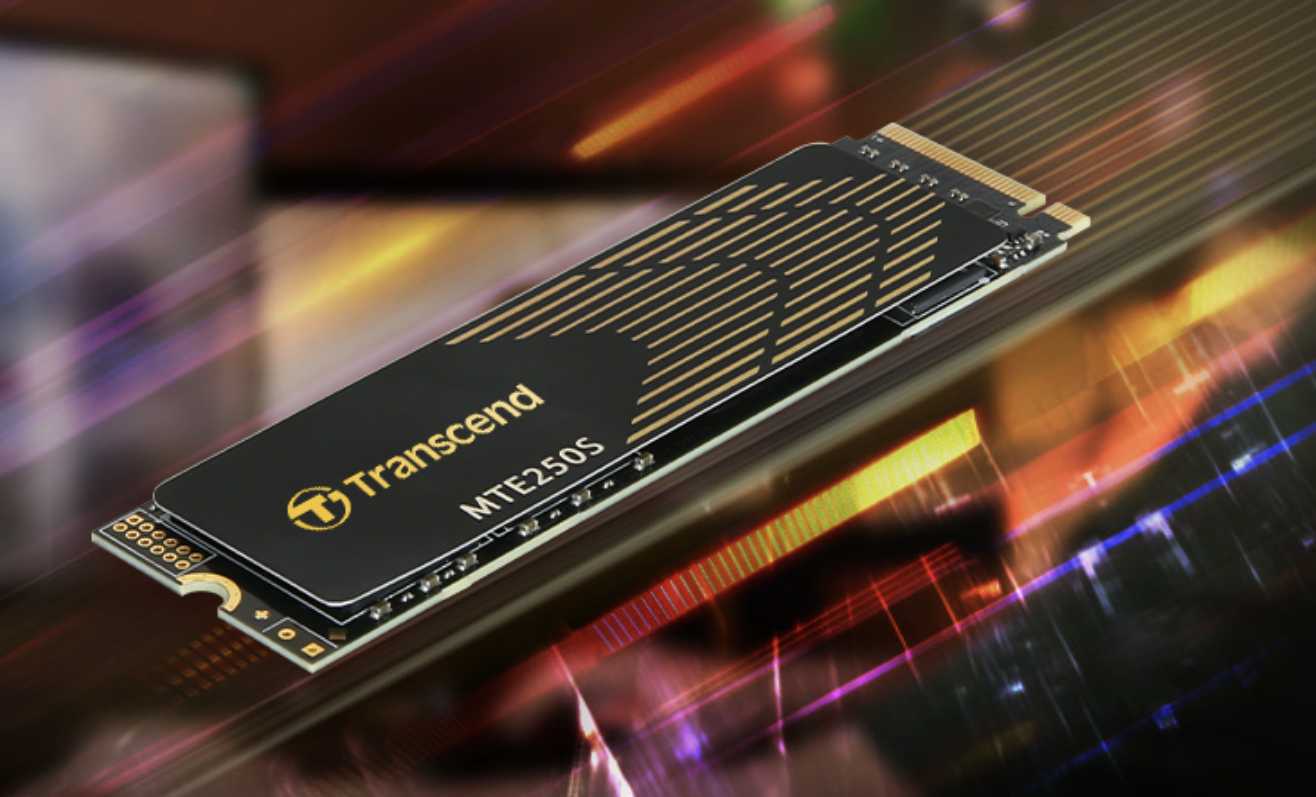 Transcend Information Inc. has officially launched the advanced PCIe 4.0 M.2 solid-state drive (SSD) MTE250S designed for both gamers and enthusiasts. Featuring 3D NAND flash, an 8-channel controller, and DRAM cache, the Transcend MTE250S SSD delivers sequential read and write speeds of up to 7200/6500 MB/s (R/W). The MTE250S SSD is offered in two capacities – 1TB and 2TB. It also features an ultra-thin graphene heatsink that ensures stable performance during non-stop operation.
The MTE250S SSD is fully compliant with the latest NVMe 1.4 specifications. It comes in an M.2 2280 form factor with an 8-channel controller and a fast PCIe Gen4 x4 interface, unleashing sequential R/W speeds of up to 7200/6500 MB/s and 4K random R/W speeds reaching 530K IOPS.
To provide stability under high-speed operation, the PCIe SSD MTE250S is equipped with an ultra-thin graphene heatsink, which facilitates heat dissipation. Plus, the Transcend MTE250S SSD has a built-in Dynamic Thermal Throttling mechanism, so the drive temperature can be monitored and controlled to ensure the SSD does not overheat and failed. To enhance data integrity, MTE250S has a built-in Low-Density Parity Check (LDPC) ECC algorithm, increasing storage reliability.
Transcend's free SSD monitoring software SSD Scope, which was designed exclusively for Transcend SSDs, brings together all the necessary functions that allow users to monitor SSD status, including SSD status display, S.M.A.R.T. analysis, data erasure, firmware update, TRIM initiation, system cloning, etc. SSD Scope integrates all these important functions into one single platform and helps users ensure their PCIe SSD MTE250S is in the best condition.
Transcend's MTE250S NVMe are covered by a five-year limited warranty and can be a good option for gamers, content creators, and software developers. But unfortunately, they are also vulnerable to such defects as power loss, magnetic fields, and electric charges, which can lead to failures and potential data loss. Then the owners of the Transend MTE250S SSDs will need to contact a professional data recovery services provider to get their critical files back. ACE Data Recovery also provides recovery services on hard drives of all makes and models and can boast of one of the highest success rates in the industry – 98%. ACE Data Recovery engineers are ready to help the Transend MTE250S M2 SSD owners with their data recovery needs.