Transcend Presents JetDrive 825 Thunderbolt PCIe Portable SSD for Mac
January, 2018
Transcend Presents JetDrive 825 Thunderbolt PCIe Portable SSD for Mac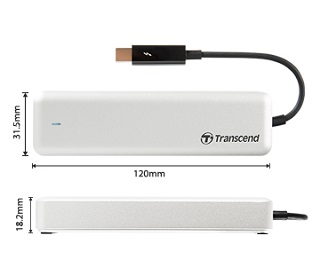 Transcend Information Inc., a leading manufacturer of storage and multimedia products, presented a new JetDrive 825 Thunderbolt PCIe portable solid state drive for Mac computers. The JetDrive series is compatible with different Mac models. It comes with Transcend's exclusive JetDrive Toolbox monitoring and firmware update application that's designed specifically for Mac computers.
The JetDrive 825 has a sleek aluminum alloy enclosure designed to complement the simple and clean design of Mac. In addition, the inner SSD is removable for greater ease of use based on users' preferences. Transcend's JetDrive 825 comes in 240GB, 480GB, and 960GB capacities.
The new Transcend JetDrive 825 uses 3D NAND flash which offers improved performance, durability and capacity. Based on the JetDrive 820, the new SSD features the PCIe Gen3 x2 interface capable of read/write speeds of up to 950 MB/s, bringing a whole new level of performance to Mac computers.
According to Transcend, the new JetDrive 825 features ultra-fast transfer speeds and makes the perfect storage upgrade for MacBook Pro, MacBook Air, Mac mini, and Mac Pro. Upgrading their Mac with a Transcend JetDrive 825, users will have plenty of space for their documents, photos, music, and videos and will be able to perform professional tasks, video editing, and 3D graphics.
The JetDrive 825 offers computer users increased speed and reliability of data transfers but, like any other SSD, it may fall victim of logical and physical failures that result in critical files inaccessibility. To ensure quick recovery of their valuable data, owners of Transcend's JetDrive 825 will need to contact a reliable data recovery service provider.
Being a worldwide leader in providing data recovery services, ACE Data Recovery team has extensive experience in recovering data from failed SSDs. ACE Data Recovery R&D team developed an advanced SSD drive recovery process that meets manufacturer's requirements. As every SSD recovery situation is unique, ACEs develop custom solutions for unusual cases and can boast of the highest success rate in the industry.