Transcend Introduces a New Series of Speedy Portable SSDs
April, 2019
Transcend Introduces a New Series of Speedy Portable SSDs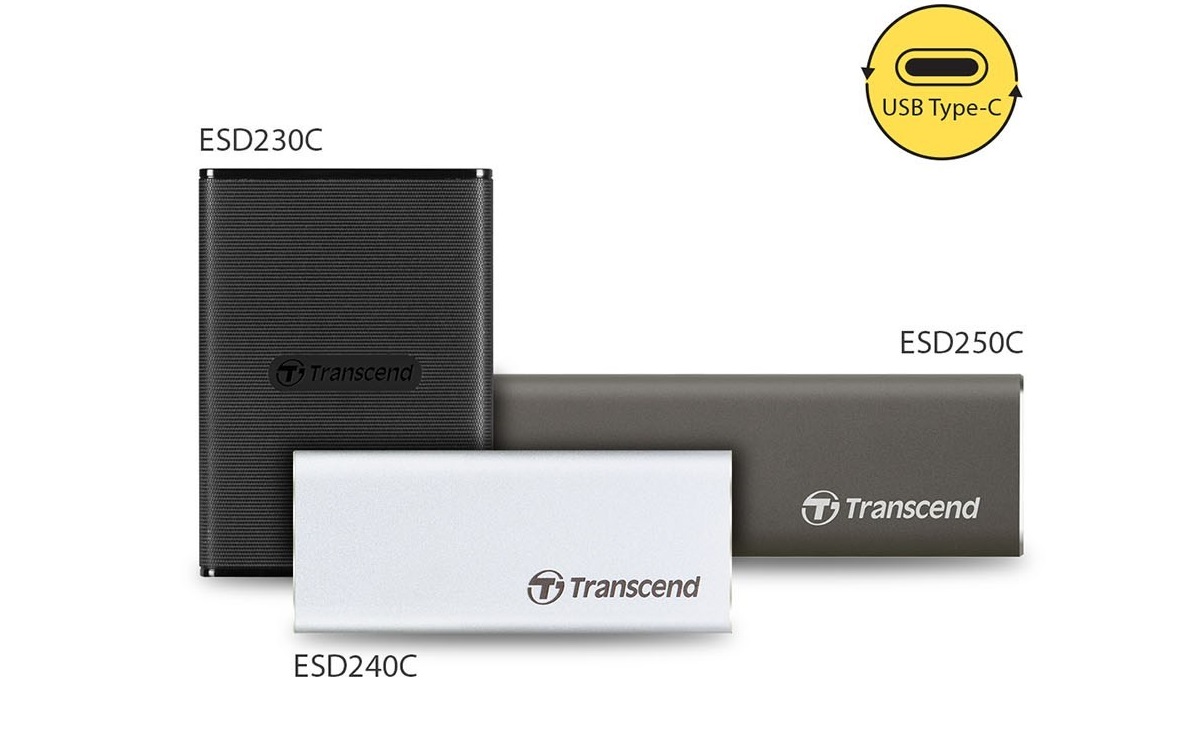 Transcend Information Inc. announced the release of a new series of USB Type-C portable SSDs, including the ESD230C, ESD240C, and ESD250C. These drives can be used with devices equipped with USB Type-C or USB Type-A interfaces, and are fast, light, and portable. The new SSDs feature impressive storage capacity and each model sports looks elegant and special so users can choose the one that fits their own fashion sense.
The all-new ESD230C, ESD240C, and ESD250C SSDs are equipped with a USB 3.1 Gen 2 compatible interface with UASP (USB Attached SCSI Protocol), providing transfer speeds of up to 520MB/s. That means that even 4K resolution videos transfer in an instant. The SSDs are compatible with desktops, laptops, on-the-go mobile devices, as well as gaming consoles. The drives provide a good expansion with their large capacities and speedy file-transfer capabilities.
The ESD230C, ESD240C, and ESD250C look unique to suit users' personal needs. The ESD230C, the size of a credit card, is discreet and ultra-light. Its black case is scratch-resistant, fingerprint-proof, and suggests refined taste. The ESD240C, in a brushed aluminum housing aims at elegance. It comes in at just 7.5mm in height, is durable and eminently portable. The ESD250C comes in understated space-gray aluminum, radiating reliability. This SSD is both stylish and functional.
Transcend's ESD230C SSD provides superior data protection by supporting hardware-based AES-256 encryption. The ESD240C is shock and drop resistant. The ESD230C and ESD250C come in up to 960GB capacities, while the ESD240C tops out at 480GB.
Users can download free Transcend Elite software from the company's official website. This advanced software package is compatible with MacOS, Windows OS, and Android systems. Featuring backup and restore, data encryption, and cloud backup functions, it can help users manage data.
The Transcend ESD230C, ESD240C, and ESD250C can be a perfect storage solution for any modern-day user but nevertheless they may fall victim to logical and physical failures that may result in critical data inaccessibility so their owners will need to contact a professional data recovery services provider to get their irreplaceable files back. ACE Data Recovery has an extensive experience in recovering data from failed SSDs and can boast of the highest success rate in the industry. ACEs will gladly help the proud owners of the new Transcend portable SSDs with their data recovery needs.