Toshiba Announces 14TB & 12TB SAS HDD Models
October, 2018
Toshiba Announces 14TB & 12TB SAS HDD Models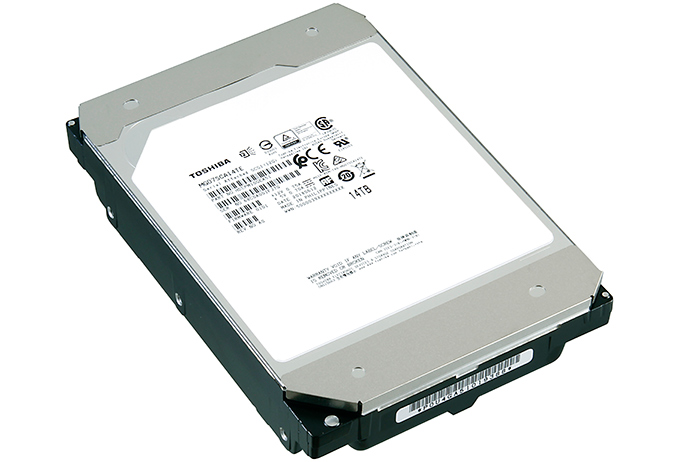 Toshiba announced its new Enterprise Capacity 14TB and 12TB helium-sealed SAS HDD models. The MG07SCA Series features 7,200 rpm performance, a SAS 12Gbit Interface, and Advanced Format Sector Technology. The hard disk drive boasts a 9-disk helium-sealed design and 14TB of Conventional Magnetic Recording (CMR) capacity for optimum compatibility. Toshiba's helium-sealed design fits into industry standard 3.5-inch drive bays. A 12TB model is also included in the Series offering.
The 9-disk helium-sealed design utilizes Toshiba's precision laser welding process, and a special top-cover design seals helium inside the drive offering high capacity and low power profile to the product. The SAS interface provides 12Gbits transfer rate performance and dual port capability for the data-path redundancy preferred by many storage solutions designers. The 14TB SAS model offers approximately a 40% increase in maximum capacity over Toshiba's prior MG06 10TB SAS models.
The Toshiba 14TB model is able to provide approximately 55% lower operating power profile over the previous 10TB model, resulting in TCO benefits for today's dense storage platforms and cloud-scale service-solution architectures. According to the company, only helium-sealed HDD technology is able to deliver these customers' TCO benefits with a low acquisition cost per GB.
The MG07SCA series enterprise capacity HDDs are engineered for nearline business-critical workloads. They are based on Toshiba Persistent Write Cache technology that helps enhance performance while also maintaining data integrity in the event of a sudden loss of power but, like all electronics, they may fall victim to physical and logical failures that may result in critical files inaccessibility. To get their irreplaceable data back, businesses will need to contact a certified professional data recovery services provider.
ACE Data Recovery has been providing data recovery services for more than 35 years and has high-tech recovery facilities with Class 100 clean rooms. The company's engineers are armed with proprietary techniques and tools and have great experience in recovering data from a full range of hard disk drives no matter what the cause of the failure is. The company's success rate is the highest in the industry. ACEs have helped thousands of businesses and individual users recover their data and will welcome the opportunity to help new customers with their data recovery needs.