Toshiba Announces New 2.5 Inch 2TB HDD for Client Storage
March, 2018
Toshiba Announces New 2.5 Inch 2TB HDD for Client Storage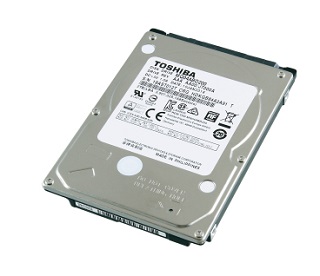 Toshiba announced its new MQ04 Series 2TB HDD model MQ04ABD200, designed for use in notebook PCs, all-in-one and slim-line desktop systems, and other applications requiring high capacity storage and 2.5-inch mobile-class durability. Other uses include high-end multimedia devices where low-power and mobile-class robustness helps to achieve platform design requirements.

The hard drive delivers 2TB of storage capacity in a compact 2.5-inch, 9.5mm height form factor. The drive's 6Gbit/s SATA interface and 5,400rpm performance, combined with a large 128MiB buffer, result in a 34 percent increase in maximum transfer rates and a 50 percent improvement in power efficiency compared to Toshiba's previous 1TB mobile-class model generation, MQ01ABD100. The MQ04AB series leverage shock sensors to protect the drive from excessive shock events.
According to Toshiba, with a field-proven two disk 9.5 mm design heritage, the new MQ04 2 TB model offers excellent value and capacity in a space-efficient design. The drive makes a good storage solution for laptops, slim-line desktops, and applications where capacity, power-profile, and reliability are critical. But unfortunately, like any hard drive, the Toshiba MQ04 Series 2TB HDD is vulnerable to physical and logical failures that can result in data loss.
In such situation, the owners of the MQ04ABD200 will need to contact a professional data recovery service provider to get their critical data back. ACE Data Recovery team has an extensive experience in providing hard drive recovery on a full range of hard disk drives made by different manufacturers, including Toshiba.
All hard drive recovery procedures are performed in proprietary Class 100 Clean Rooms. ACEs follow non-destructive hard drive data recovery processes that include drive sector cloning. ACE Data Recovery engineers use advanced techniques and proprietary software and can successfully recover data that other companies can't. ACE Data Recovery has been in business for over 35 years, has a nationwide reputation for industry-leading results and makes the best choice when you need to recover data from any type of storage media.