Toshiba Announces Enterprise and Data Center-Class PCIe Gen 4.0 SSDs
September, 2019
Toshiba Announces Enterprise and Data Center-Class PCIe Gen 4.0 SSDs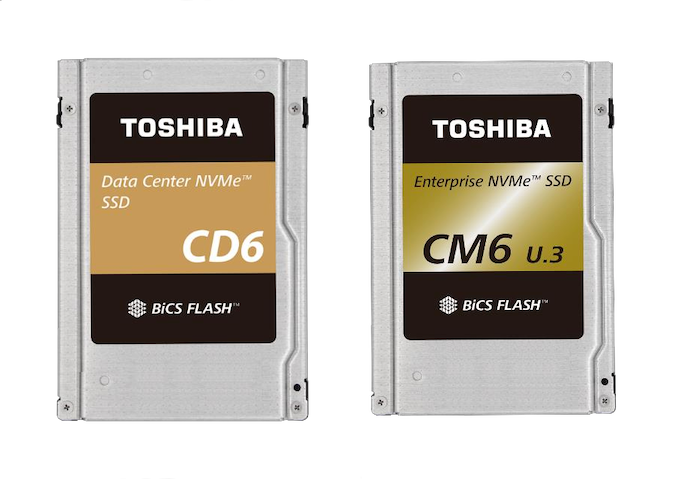 At the Flash Memory Summit, Toshiba used the opportunity to announce a couple of new, enterprise-class and data center PCI Express 4.0 solid state drives – the CD6 and CM6 – that offer massive performance improvements over previous gen products. They are timing their first two Gen4 SSDs for 2020.
The Toshiba CM6 enterprise NVMe SSD and the CD6 datacenter NVMe SSD are successors to the existing CM5 and CD5 respectively. The CM6 will offer some more advanced enterprise features like PCIe dual-port support. Both drives will be using Toshiba's BiCS4 96-layer 3D TLC NAND flash memory, and they're currently expecting peak speeds of 6.7GB/s while reportedly also improving efficiency by up to 30%.
The CD6 is built for cloud computing, content delivery networks (CDNs), and database applications while the CM6 is aimed towards HPC, big data analytics, containerized, and virtualization applications. The drives are fundamentally similar and each comes in the new U.3 form factor (SFF-TA-1001) factor. Additionally, they support the latest NVMe 1.4 specification. The drives differ in their PCI Express lane configuration options. The CM6 will be offered with PCIe 2x2 (dual ports, with two lanes each) or PCIe 1x4 configurations, while the CD6 is PCIe 1x4 only.
The CM6 and CD6 use the SFF-TA-1001 form factor, also known as U.3. U.3 is backward compatible with the previous-gen U.2 form factor, so these new drives can be used in existing infrastructure. But with U.3, when used in conjunction with a compatible tri-mode HBA (Host Bus Adapter) and a universal backplane, can accommodate all of the most common drive types used in data centers today (SAS, SATA, or NVMe drives) to ease upgrades and maximize flexibility.
Toshiba is currently working with their partners for testing and validation of the CM6 and CD6, with volume availability planned for 2020. The new Toshiba CM6 and CD6 Gen 4.0 SSDs will be a great option for businesses but, unfortunately, they may fail just like any other storage media. In this case, businesses that use The Toshiba CM6 and CD6 Gem 4.0 SSDs will need to contact a professional data recovery services provider like ACE Data Recovery team. ACEs have a vast experience in recovering data from all types of storage media, including SSDs so they will gladly help owners of the Toshiba CM6 and CD6 Gen 4.0 SSDs with their data recovery needs.