Toshiba Announces New Canvio Slim Portable Hard Drive
June, 2019
Toshiba Announces New Canvio Slim Portable Hard Drive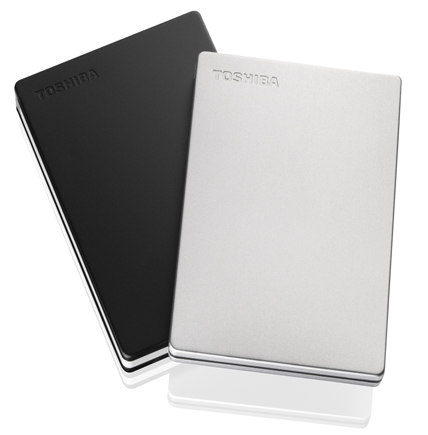 Toshiba expands its Canvio portable hard drive line up with a new Canvio Slim hard drive. The company claims it's one of the most compact external mobile hard drives in the market.
Toshiba announced the Canvio Slim, the latest addition to Toshiba's Canvio portable hard drive family. The new hard drive comes with a lightweight, aluminium finish and is just 9mm thick (1TB model) so Toshiba says the Canvio Slim is one of the thinnest and most compact external mobile hard drives in the market. Computer users can take advantage of the newest Canvio device to easily back up photos, music, videos, and other files, The new drive features a simple graphical user interface over USB 3.0 High-Speed (5 Gbit/s) transfer and security software to prevent unauthorized access to data.
The Canvio Slim delivers data storage in a form factor that's as stylish as it is portable. With up to 2TB of storage, USB 3.0 & 2.0 compatibility, and easy-to-use backup and security software, users' ever-growing collections of files and multimedia content will remain safe and easily accessible, the company says. The drive's compact size, premium look and feel, and affordable price make the Slim an ideal travel companion for people who need a storage device they can put into their handbag or carry-on and barely notice it's there.
The Canvio Slim demonstrates that Toshiba is committed to advancing consumer HDD design to meet the evolving needs for storage devices suited for on-the-go users, from business travelers to outdoor photographers. The Toshiba Canvio Slim portable hard drives are available in silver and black and boast a 3-year standard limited warranty.
Unfortunately, no matter how good they are, all storage media may fall victim to physical and logical failures and the new Toshiba Canvio Slim portable hard drives are no exception. To get their irreplaceable photos and other documents back, the new Canvio Slim hard drive owners will need to contact a professional data recovery services provider. ACE Data Recovery team has been providing premium data recovery services for more than 35 years. The company's engineers have decades of experience on recovering business and personal files from internal and external hard drives of all makes and models, including Toshiba. The company's data recovery process meets manufacturer's requirements and will not void the original warranty. ACEs will gladly help the new Toshiba Canvio Slim portable hard drive owners with their data recovery needs.