Toshiba launches 3.5-inch 8TB N300 NAS hard drive for consumers
May, 2017
Toshiba launches 3.5-inch 8TB N300 NAS hard drive for consumers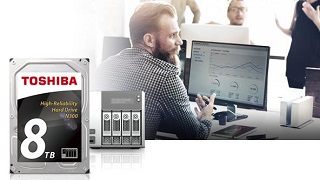 NAS environments where large amounts of data need to be stored and accessed efficiently on a daily basis require hard drives with high performance, reliability, endurance, and scalability. Toshiba, a committed technology leader, announced a new N300 series of 3.5-inch internal NAS consumer hard drives for personal, home office, and small business use with the fastest data transfer rate. This high-reliability drive was optimized for network-attached storages but it can be also used inside PCs or with USB enclosures.
With support up to eight bays in a multi-RAID NAS2 design, users' NAS configurations can grow in a line with their evolving data storage needs. According to Toshiba, the performance boost is due to the N300's Dynamic Cache Technology. Toshiba employs advanced technologies that maximize performance and prevent downtime and uses high endurance components that ensure durability in harsh environments.
According to Toshiba, the company was the fastest growing vendor in the HDD space for 2016. Their new N300 Series is a testament to Toshiba's determination to meet customer demands for drives that offer variety, dependability, and efficiency for every need.
The new Toshiba 8 TB N300 Series HDD for NAS is a great storage option for consumers as it can store more data, but sooner or later the happy owners of new Toshiba capacious NAS might need professional help with critical information retrieval from the storage devices fallen victims to logical or physical corruption.
Data recovery from storage units with large capacities can be a rather challenging task as it requires advanced technologies and state-of-the-art equipment. Luckily, companies like ACE Data Recovery, the world's leader in data retrieval, have enough experience and all the necessary know-how to take up the challenge. ACE Data Recovery makes the best choice here as it is the only US company that can develop case-specific solutions to ensure successful file retrieval from any type of storage device.