Toshiba announces 8TB version of their X300 desktop HDD
September, 2017
Toshiba announces 8TB version of their X300 desktop HDD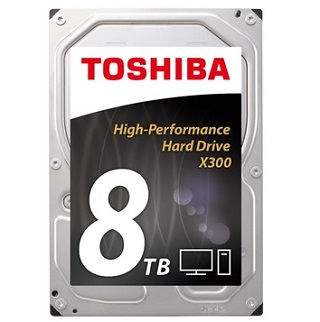 Toshiba is slowly upgrading their drive lines with new large-capacity models and has expanded its X300 HDD line to include an 8 TB model. While it is a desktop drive, Toshiba built it for the performance-minded user. Unlike most consumer-class hard drives that only have 64mb cache, the Toshiba X300 Series features 128MB cache offering high performance and robust capacity for average consumers and professionals for applications including video editing, graphics design, and PC gaming.
Available in a 3.5-inch form factor, the X300 performs at 7200RPM and a SATA connection up to 6Gbit/s4. It is compatible with most major brands of Serial ATA enabled desktop computers. The Toshiba X300 features high-precision head positioning supported by advanced format technology (physical 4KB sector) and dual stage actuator technology to deliver high storage density and capacity.
The X300 desktop series has some advanced functions. The Toshiba X300 features ramp loading technology which reduces wear to the recording head and media for improved drive reliability. Built-in shock sensors also detect impact. A secured motor shaft at both ends helps to reduce system-induced vibrations, stabilizing the platters for improved tracking accuracy and performance during read and write operations.
The Toshiba 8TB X300 HDDs offer high performance and reliability for creative professionals and gamers but like any other HDDs, they are susceptible to physical damage. Data recovery from damaged hard drives is a complex process that requires secure state-of-the-art facilities.
ACE Data Recovery team has technology and experience necessary to handle the most extreme situations of data loss and get critical data back. ACEs have high-tech recovery facilities with Class 100 clean rooms for HDD recovery. ACE Data Recovery engineers have decades of experience and can develop custom recovery solutions for difficult cases. No matter what the cause of the data loss is, ACE Data Recovery engineers are up for the challenge. They have the capability and skills to recover data from any type of storage device. ACEs can recover data even from storage devices considered unrecoverable by other companies and have the industry leading success rate. ACE Data Recovery makes the best choice when you need to get you valuable data back from any storage device.